@Rochester — Aug. 31, 2007

Today's Forecast: Sunny, High 76°
Tomorrow: Sunny, High 75°
In Today's Issue
Sept. 5: Celebrate Rochester's New Logo
One Species' Genome Discovered Inside Another's
Supersonic 'Rain' Falls on Newborn Star
Event Highlight: Football Home Opener
Rochester in the News: University Student Studies Produce in City Stores, Alice Pentland Discusses Study of Dermatologists
In Higher Ed: Political Engagement 101
News and Announcements
Sept. 5: Come Celebrate the Launch of Rochester's New Logo
The University community is invited to attend a noon celebration marking the official launch of the new logo on Wednesday, Sept. 5, on the steps of Wilson Commons. The event will include performances by the Pep Band and a cappella groups, refreshments, giveaways, and a brief presentation by President Seligman. Read more...
One Species' Genome Discovered Inside Another's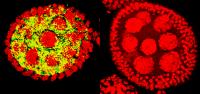 Scientists at the University and the J. Craig Venter Institute have discovered a copy of the genome of a bacterial parasite residing inside the genome of its host species. The research, reported Aug. 30 in Science, poses dramatic implications for evolution. Read more...
Supersonic 'Rain' Falls on Newborn Star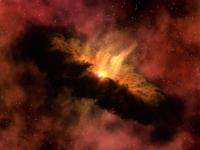 University astronomers have discovered five Earth-oceans' worth of water that has recently fallen into the planet-forming region around an extremely young, developing star. Dan Watson, professor of physics and astronomy, believes he and his colleagues are the first to see how water likely gets incorporated into planets. The findings were published Aug. 30 in Nature. (Also reported by MSNBC, New Scientist.com, National Geographic News, Brisbane Times, UPI, and others.) Read more...
Events
Sept. 1
Football Home Opener: Yellowjackets host Carnegie Mellon University for season opener. Fauver Stadium. Noon.
For more events: www.rochester.edu/calendar
Rochester in the News
Democrat and Chronicle (Aug. 30)
"Fresh Food, Vegetables a Rarity in City Stores"
The article highlights the results of a survey of convenience stores in the south west section of Rochester conducted by senior Cynthia Arvizo. The results show that 95 percent offer little or no healthy foods and point to one of the underlying causes in the growing rate of obesity in adults and children in inner city Rochester. (See the related Medical Center news release.) Read more...
ABC News (Aug. 29)
"Botox May Beat Cancer Concern in Race to Dermatologist"
"Clearly a changing mole is more important than injections of Botox," says Alice Pentland, professor and chair of dermatology, discussing a study that showed shorter waits with dermatologists for the cosmetic Botox procedure. Read more...
In Higher Education
Inside Higher Ed (Aug. 30)
"Political Engagement 101"
"Survey after survey reports that American students—while concerned about the world around them—are apathetic about politics. A new study, however, suggests that political engagement can be taught through courses that mix traditional political science education with participatory politics." Read more...
Helpful Sites
Contact Us
We want to hear from you!
Send submissions and feedback to at-rochester@rochester.edu