Special Edition: 'Thanks, George!'
'Thank George' at Celebration Saturday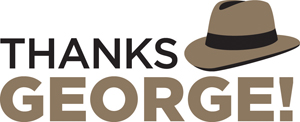 All faculty, staff, and students are invited to a celebration at 3:30 p.m. Saturday to mark George Eastman's historic contributions to the University and the contributions of a new generation of donors, the members of the George Eastman Circle. As part of this year's Meliora Weekend activities, a statue of Eastman will be introduced on the Eastman Quadrangle between Lattimore and Morey halls, followed by a campuswide reception.
One of the most notable entrepreneurs and philanthropists of the 20th century, Eastman worked closely with then University President Rush Rhees to help launch Rochester as a nationally recognized research university.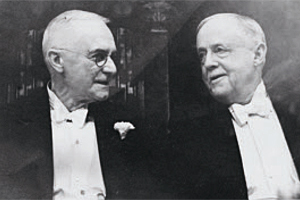 In addition to establishing the Eastman School of Music as a University unit, he also was a leading benefactor behind the School of Medicine and Dentistry and the Medical Center and the campaign to establish the River Campus.
Read more...
More about George

A University tribute to Eastman to recognize his 150th birthday
President Seligman on Eastman's dreams for Eastman Theatre and the Eastman School
University establishes George Eastman Circle to continue Eastman's legacy
@Rochester is produced daily by University Communications. You are receiving this message as a member of the University of Rochester community or as a subscriber. Please do not forward this newsletter to other distribution lists. If you are receiving multiple copies or believe this message was sent to you in error, send a note to at-rochester@rochester.edu.