News & Events
February 22, 2013
The Humanities Project Presents Dante & the Arts
Textual and intertextual perspectives (literary criticism, art history, and musicology).
Friday, February 22
Robbins Library, Rush Rhees
10:00 am - 5:00 pm
Free and open to the public.
Rochester Review
November–December 2012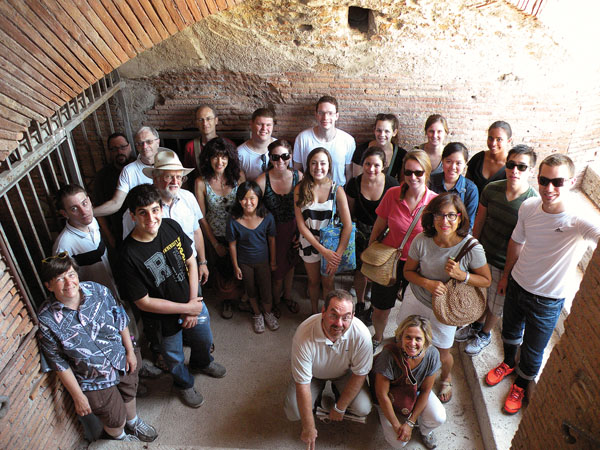 A Rochester-only study abroad program provides a unique semester of Italian history and culture.
Story and photographs by Maya Dukmasova '12 (T5)
September 25, 2012
The Humanities Project presents Dante's Inferno
A feature film adaptation of Dante's first Cantica done with paper puppets. Directed by Sean Meredith, produced by Paul Zaloom and Sandow Birk, art directed by Elyse Pignolet (USA, 2007). Sandow Birk will introduce the film and engage the audience in discussion after the screening.
Tuesday, September 25
321 Morey Hall
6:00 pm
Refreshments will be served
February 15, 2012
The Italian Program of the MLC Department invites you to join in a celebration of Italian Studies.
Wednesday, February 15
Meliora Salon D
6:00–8:00 pm
Frederick Douglas Building
Spring 2012
Courses with Visiting Professor Simone Zacchini from the University of Arezzo:
Attention ATHS Majors
Eight credits of the Arezzo Program are applicable to the major in Archaeology, Technology and Historical Structures!
Thursday, February 10, 2011
5:00 p.m. in 401 Lattimore Hall
Italian Studies in Tuscany From Antiquity to Modernity
All students are invited to attend! The Arezzo Program has no prerequisites. Freshmen, Sophomores, Juniors and Seniors are eligible.
UR participating Faculty:
Renato Perucchio (ME/ATHS)
David Walsh (A&AH)
Donatella Stocchi-Perucchio (Program Director)