CETL—For Undergraduate Students
Learning Assistance Services is now the Center for Excellence in Teaching and Learning. CETL is a resource available to all students in the College. All kinds of students with all kinds of GPAs and academic records make use of our programs. We work with strong students who wish to become even better, as well as with students who have not yet tapped into the strategies needed to succeed in college, and everyone in between.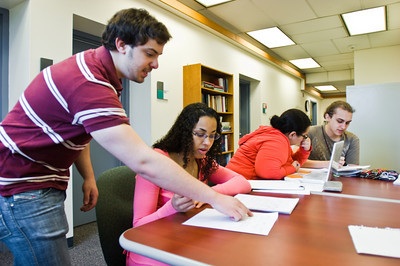 We offer an extensive study group and Workshop program, individual study skills support, study skills workshops and a study skills course, disability support, and the College Tutoring Program.

To make an appointment or to learn more, stop by our office in 1-154 Dewey Hall, call us at (585) 275-9049, or send an email.
Quick Links:
News & Events
Symposium explores 'disability' and 'normalcy'
A number of University departments are sponsoring UR's first Disability Studies Cluster Symposium, "Complicating Normalcy: Disability, Technology, and Society in the Twenty-First Century." The day-long event on Friday, Nov. 14, will be organized around the documentary film FIXED—The Science/Fiction of Human Enhancement.

The film explores the meanings of "disability" and "normalcy" in contemporary times through the examination of technological and pharmacological advances designed to "fix or enhance the human body," and the bioethical implications and social tensions that arise from these scientific advances. Register here.
Walk-in Tutoring Hours Now Available for CHM 131, CHM 203, BIO 110, and All Levels of Calculus
CHM 131 and BIO 110: Sundays, 7-9 PM, Dewey 1-160A & N
All levels of calculus and CHM 203: Sundays, 5-7 PM, Dewey 1-160A & N
Methods of Inquiry Course Offered in Two Sections this Fall
MW 6:15 - 7:30, taught by Ali Safivand, Lattimore 431, October 15 - November 24
and TR 4:50 - 6:05, taught by Robin Frye, Dewey 4-162, October 16 - November 25
Learn more about Methods of Inquiry and CETL's study skills program