Multidisciplinary Studies Center
Bachelor of Arts (BA) in Digital Media Studies
This new major in Digital Media Studies, designed by faculty from nine disciplines within Arts, Sciences and Engineering, provides students with the skills necessary to become active producers of digital media and with the rigorous framework for advanced critical thinking and writing about them. Today's students are nearly constantly plugged in. They are not only heavily involved with media and communications; they are dependent on them. This major is constructed to require nearly equal measures of theoretical and historical work on the one hand and scientific and technological work on the other. It is clear that the technology required to create digital media has become both more pervasive and increasingly inexpensive, but the numbers of people with rigorous training in either the production of digital media or their analysis has not risen correspondingly. This major is designed to remedy that situation.
Major available to freshmen entering in the fall of 2011 and thereafter (ie. starting with the Class of 2015).
Campaign for Rettner Hall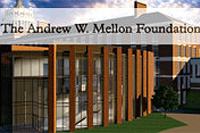 At the intersection of the arts, sciences, and engineering, the new Ronald Rettner Hall for Media Arts and Innovation at the University of Rochester will give students a venue where they can explore hands-on practical skills and gain knowledge to navigate and excel in a fast-paced, digitally-oriented world. Learn all about the building here »
Goals of the major:
Conceptual understanding of diverse theoretical frameworks from the history and theory of media studies.
Understanding of aesthetic and technical design of media that students will use in critical analysis and media design activities.
Advanced critical reading, thinking, analytical, and expository skills based on the critical reading and analysis of the texts, images, and sound that comprise new media.
Ability to conceptualize and implement a media design, with emphasis on creative problem-solving techniques to deliver a digital media object.
Mastery of written and presentation abilities.
Professional abilities in the areas of ethical and legal issues, teamwork, leadership, lifelong learning.
Preparation for careers traditionally associated with a liberal education (e.g., law, teaching, business, public service) as well as those more directly associated with media analysis and production, in particular careers in the entertainment industry and the field of communications.
Curriculum
Digital Media Studies is a 12 ½ course interdisciplinary major. Students will complete precisely 7 (neither more nor fewer) of those courses in either the Humanities (H) or Natural Sciences and Engineering (NS). Their divisional requirement will be fulfilled in the domain in which they complete 7 courses.
Three courses may overlap between the DMS major and another major, and two courses between the DMS major and another minor.
DMS Fall 2014 Courses
A. Introductory required courses (3 courses)
DMS 101—Introduction to Media (cross-listed with ENG118, AH102, FMS131 and AH103) (H)
DMS 102—Introduction to Web Programming (NS)
DMS 103—Human–Computer Interaction (NS)
B. Technology/Production Courses (4 courses)
Students take 3 courses in one of the four areas listed below, and 1 course in a second area. The course in that second area may not be cross-listed in the student's primary category.
Graphics/Visualization/Vision
SA 151—Introductory Digital Art
SA 253—Advanced Digital Art: Nature 2.0
SA 141—Introduction to Photography
SA 242—Advanced Photography
SA 244—Extended Photography
BCS 220—The Intelligent Eye
OPT 101—Introduction to Optics
CSC 131—Recreational Graphics I
CSC 242—Artificial Intelligence
CSC 249—Machine Vision
Sound
FMS 161—Introductory Video and Sound Art
SA 262—Advanced Video and Sound
ENG 265—Documentary, Mock Documentary, and Reality TV
MUR 161—Broadcasting in the Digital Age
ECE 140—Introduction to Digital Music
ECE 240—Musical Sound: Science and Synthesis
CSC 198—Computational Music Theory
AME 191—Art and Tech of Recording
AME 192—Listening and Audio Production
AME 193—Sound Design
AME 263—Computational Models of Music
Human-Computer Interaction
CSC 171—The Science of Programming
CSC 212—Human-Computer Interaction
CSC 247—Natural Language Processing
CSC 248—Statistical Speech and Language Processing
CSC 191—Machines and Consciousness
STT 211—Applied Statistics: Social Sciences
STT 212—Applied Statistics: Biological and Physical Sciences
Building, Constructing, Making
CSC 166—Video Game Programming
FMS 161—Intro Video & Sound
SA 262—Advanced Video and Sound
AH 114—Creating Architecture
SA 131—Introductory 3D
SA 190—Introduction to Studio Practice
SA 233—Advanced 3D
SA 292—Markings, Methods and Materials
EAS 141—Basic Mechanical Fabrication
ENG 263—Avatar: Digital Artistry in Virtual Worlds and Their Development
ME 103—Loudspeaker Design
ME 110—Intro to CAD and Drawing
SA 272—Artists Books
CSC 210—Web Programming
C. Media History and Theory (3 courses)
AH 100—Introduction to Visual and Cultural Studies
AH 101—Introduction to Art & Visual Culture
AH 128—Modern Art
AH 206—American Independent Film
AH 212—What Photo Is
AH 217—Technologies of Art
AH 240—Top Cont Art & Crit: Warhol
AH 253—Film History: 1929-1959
AH 254—Film History: 1959-1989
AH 308—Art and Imitation
ANT 225—The Social Uses of Media
CHI 237—Chinese Film
CSC 199/299—Social Implications of Computing
CSC 199/299—Creative Computing
ENG 242—Idea of America
ENG 255—Film History: Early Cinema
ENG 259—Popular Film Genres
ENG 260—Film History: 1989 to the Present
ENG 261—Film Theory
ENG 263—Poetics of Television
ENG 265—Issues in Film: Family Repression & Rage in Film & Society
ENG 265—Issues in Film: Documentary & Mock Documentary
ENG 267—Changing Genres of Erotica
ENG 267—Food, Media and Literature
ENG 267—Media Space
ENG 267—Animation and the Arts
ENG 283—Media ABC
GER 209—Cowboys and Indians
GER 247—The Holocaust in Film and Literature
GER 275—Digital Cityscapes
GER 282—Fassbinder
GER 283—West German Avant-Garde
GER 284—Hollywood Behind the Wall
HIS 219—William Seward's Civil War
HIS 264—Technology and American Values
IT 245—Dante: A Multimedia Lab
JPN 207—Film as Object
JPN 292—Anime
JPN 294—Hayao Miyazaki and Planet Ghibli
ME 206—Building Engineering and Technology in Antiquity
MUR 122—History of Jazz
MUR 123—Music of Black Americans
MUR 125—History of Rock
MUR 130—The Beatles, the British Invasion
MUR 135—Sondheim and the American Musical Theatre
PHL 141—Aesthetics
RUS 267—Russia Goes to the Movies
D. Capstone (2 ½ courses)
For their capstone experience students plan, design, construct, and deliver a digital media object of significant scope. Working as a team, they deploy their collective knowledge, skills, and expertise in the domain of media history, theory, aesthetics, and technology to review customer proposals and/or devise a project of their own design in the spring of their junior year (1/2 course). During their senior year, they research and plan the patents and copyrights, licensing, intellectual property, budgets, and the technological components associated with their project. Based on their research and their interaction with their customer, they then design, construct, test, and deliver the final object.
 The major requires two upper-level writing courses. Although these can be taken in any subject area, most students will find it convenient to complete the upper-level writing component in the Media History and Theory component of the major.