Season Six of the Two Month Review is Coming and It's Pessoa
We still have a few episodes left in the Fox season of the Two Month Review ("Part V" on 8/28 with Caitlin Luce Baker, "Part VI" on 9/4 with Ryan Chapman, and a wrap-up on 9/10 with Dubravka Ugresic herself), but it's never too early to start planning ahead for the next season . . .
Starting on September 24th for YouTube viewers (September 27th for anyone who prefers the podcast version), Brian and I will be tackling this: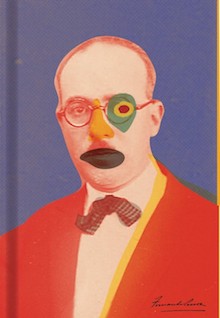 The Book of Disquiet by Fernando Pessoa, translated from the Portuguese by Margaret Jull Costa (New Directions)
I'm sure a lot of Three Percent readers are already familiar with Pessoa-and probably have read at least some, if not all of this book–but for everyone else, he's one of the all-time greats. Creator of some seventy-two heteronyms, Pessoa was a poet, literary critic, and essayist, and The Book of Disquiet is considered to be one of the greatest works of the twentieth century. There are a number of editions available, both by different translators and with somewhat different contents, but we'll get into all that on the podcast. For now, here's the jacket copy from New Directions:
The Book of Disquiet is the Portuguese modernist master Fernando Pessoa's greatest literary achievement. An "autobiography" or "diary" containing exquisite melancholy observations, aphorisms, and ruminations, this classic work grapples with all the eternal questions. Now, for the first time the texts are presented chronologically, in a complete English edition by master translator Margaret Jull Costa. Most of the texts in The Book of Disquiet are written under the semi-heteronym Bernardo Soares, an assistant bookkeeper. This existential masterpiece was first published in Portuguese in 1982, forty-seven years after Pessoa's death. A monumental literary event, this exciting, new, complete edition spans Fernando Pessoa's entire writing life.
If you're already a listener to the Two Month Review (and if not, you should be), you'll know that this Pessoa quote is the most Chad TMR quote possible:
My only regret is that I am not a child, for that would allow me to believe in my dreams and believe that I am not mad, which would allow me to distance my soul from all those who surround me.
This is going to be a fun season . . .
Anyway, we're in process of lining up a number of amazing guests, so you'll want to subscribe (on YouTube or Apple or wherever you get podcasts) and pick up a book so that you can read along.
Speaking of that, here's the schedule with the podcast dates (stay tuned for days/times of the live broadcasts):
9/27: Introduction (i-xix)

10/4: Sections 1-39 (pages 1-46)

10/11: Sections 40-81 (pgs 47-94)

10/18: Sections 82-130 (pgs 95-141)

10/25: Sections 131-173 (pgs 142-189)

11/1: Sections 174-221 (pgs 190-237)

11/8: Sections 222-273 (pgs 238-287)

11/15: Sections 274-315 (pgs 288-336)

11/22: Sections 316-358 (pgs 337-387)

11/29: Sections 359-393 (pgs 388-421)

12/6: Sections 394-End (pgs 422-468)
As always, the podcast will be a mix of jokes and literary criticism–an ongoing attempt to demonstrate that "difficult," "long" books can be fun to read. You can read along with us, just listen to the podcasts, dip in and out . . . Whatever works for you. It's always a fun time though, and hopefully a nice addition to the other book-related podcasts out there.