message from the president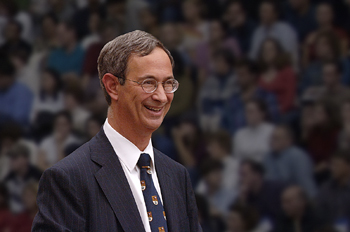 This annual report illustrates the many wonderful developments at the University of Rochester during the last year, the impact of which can be felt far beyond the confines of our campus and this city.
Among the most notable is Rochester's role in the development of the first vaccine against cervical cancer. Timely vaccination now can prevent this dreaded disease, thanks in part to doctors William Bonnez, Richard Reichman, and Robert Rose of the University of Rochester Medical Center, whose research helped create the vaccine, approved by the Food and Drug Administration in June.
In the College, scholarship in the humanities will be enhanced by two new developments. A grant from the Mellon Foundation has established a partnership among the University of Rochester and Cornell and Syracuse universities to create the new "Central New York Humanities Corridor." This effort has been complemented by the creation of a Humanities Fund for 2006–07 to support faculty projects in the arts, music, English, religion and classics, literature, philosophy, modern languages and cultures, and film and media studies.
This year the University reaffirmed its commitment to recruit and retain world-class faculty with the establishment of the Thomas H. Jackson Distinguished University Professorship. This professorship is a harbinger of many endowed professorships to be created in the months and years ahead. In early October I was delighted to announce that the University in the last six months has fully funded endowed professorships in honor of Susan B. Anthony, Frederick Douglass, Lionel McKenzie, Doris Johns Cherry, and Pamela Klainer. The Lindsey Distinguished Professorship for Pediatric Research was established to honor all the children, and their parents, who participate in clinical trials.
The projects highlighted in the pages of this annual report are evidence of the exceptional results that can be achieved by aiming high and systematically pursuing our goals. The creativity and drive of our students, faculty, and staff, combined with the vision and generosity of our alumni and friends, make these accomplishments possible. I thank all of you for your support and look forward to working with you in the coming years.
Best regards,
Joel Seligman