Gifts to the endowment support the institution today, tomorrow and far into the future, providing a source of permanent funding. By supporting the endowment as well as making annual and one-time gifts to areas of interest, alumni, parents, and friends of the University help ensure generational continuity. 
Messinger Family Gifts Strengthen a Philanthropic Legacy at the University of Rochester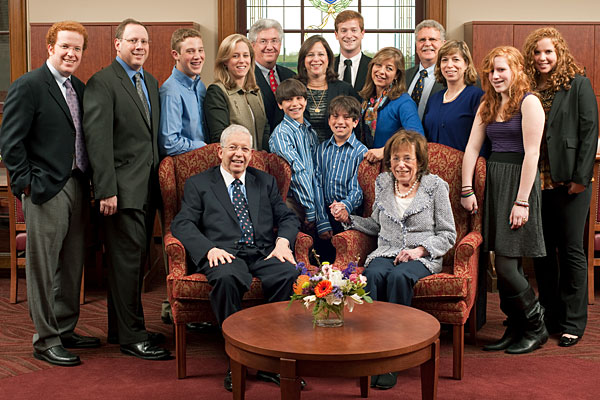 Martin E. Messinger '49 and his family have given an additional $1.3 million to establish three endowed funds at the University of Rochester, continuing a philanthropic legacy that spans more than four decades. Their most recent gift provides continuing and future support for the Messinger Library Recognition Award, the Judaic Studies program, and the student Debate Union.
President Joel Seligman said, "Marty Messinger long has been extraordinary in his willingness to share inspiring ideas, to support projects that make a difference at our University, and to participate on our Board and its Investment Committee as a thought leader. We are deeply grateful to Marty and his wonderful family."
Enduring ties
Marty's uncle, Isadore (Izzy) Messinger, M.D., began a Messinger family legacy of attending the University of Rochester, graduating in 1919. Following Dr. Messinger's passing, his wife Mabel made a substantial gift to endow a fund in support of Judaic Studies at the University. Their daughter, Alice Ruth Messinger, earned her Bachelor of Arts degree at the University in 1945 with honors. Marty's aunt, Mildred Messinger Goldstein, was a member of the Class of 1929 and her brother, William J. Messinger, M.D., graduated from the University in 1933. Marty's father, David, and other uncle, Max (Tricksy), worked so the family's oldest and youngest sons, and only daughter could attend the University of Rochester. Marty's daughter, Rabbi Sarah Jo, earned her degree in religious studies from the University of Rochester in 1982.
Marty also attended the University, earning an economics and government degree. Offered a full-tuition scholarship at Harvard Kennedy School, he was too young to attend and went to Columbia University where he received his M.B.A. in 1950. He worked for Merrill Lynch & Co. in Rochester during the 1950s and '60s. He then joined Merrill Lynch in New York City, rising to Vice President – Management and assistant to company President Donald Regan, who later became Chief-of-Staff for U.S. President Ronald Reagan. Since 1973, Marty has been managing partner of Neuberger & Berman, LLC.
In 1998, he established a philanthropic foundation to support the already engrained family commitment to giving back. Foundation members include Marty and his wife, Joan. Through the involvement of their daughters — Daryl, Alice, Lisa, and Sarah Jo — the shared value of philanthropy extends across generations.
In describing his family's philanthropic legacy, Marty said, "We are fortunate as a family that we have earned the ability to assist institutions and individuals. Our children continue our family faith and tradition and have earned leadership responsibility. We hope it will be continued in future generations."
Supporting excellence
Over the years, the Messingers have focused much of their support on Rush Rhees Library, Judaic Studies, the Debate Union, and the Eastman School of Music. Their most recent gifts represent the continuation of a vision that has been unfolding for decades.
Senior Vice President and Robert L. and Mary L. Sproull Dean of the Faculty of Arts, Sciences, and Engineering Peter Lennie said, "Marty Messinger and his family have greatly enriched the University of Rochester experience for our students, faculty, and staff. We deeply appreciate gifts like this that provide annual fund support in perpetuity. The Messingers' generosity benefits the entire University and its extended community."
Areas that will benefit from the Messinger family's most recent gift are:
Rush Rhees Library
Among the Messinger family's gifts is the elegant renovation and restoration of the building's historic reading rooms. The new Messinger Library Recognition Award Endowment provides further support for an award Marty established in 2007.

Vice Provost and Andrew H. and Janet Dayton Neilly Dean of River Campus Libraries Susan Gibbons acknowledged the family for their consistent support. "The Messinger Library Recognition Award calls attention to the contributions of the libraries' staff to the academic success of our undergraduate and graduate students and the research endeavors of our faculty," she said. "The Messinger family's generosity across all key elements of the University libraries ensures the libraries' unique resources will assist generations of academic inquiry."
Center for Jewish Studies
Another beneficiary of the family's endowment support is the University of Rochester's Center for Jewish Studies, which promotes research, scholarship, and education in Judaism and Judaica. The Center produces outstanding publications and offers lectures, fellowships, and opportunities for intellectual collaboration that enrich the campus experience and forge international partnerships.

Especially through its Community Internship Program, the Center for Jewish Studies is an active participant in improving the quality of life for all who live and work in the City of Rochester.
Debate Union
Established in 1850, the University of Rochester's debate team — known today as the Debate Union — participates in intercollegiate competition regionally, nationally, and internationally. Marty was a member of the team during his student days and has been a longtime and enthusiastic supporter. While he was working at Merrill Lynch, the University brought Marty back to coach the team.

Ken Johnson, director of forensics and lecturer in the English Department, has worked with the Debate Union since 2000. During this time, he has led teams to multiple national championships and expanded its presence in academics and student life across the River Campus.

"The Messinger family has enabled the University to build one of the nation's largest debate teams," said Johnson. "In addition to generous financial support, Marty also finds time to meet with debate students to field questions about translating their communication talents into real world employment."
Longstanding support
In addition to the areas receiving endowed funds from the Messingers' newest gift, a highlight of the Messingers' longstanding support is their commitment to the Eastman School of Music. Marty provided funding for the building containing the Eastman Community Music School at 10 Gibbs Street in Rochester. The facility was dedicated in October 2005 in memory of Marty's mother, Anne Waltuck Messinger, for her love of music.
A legacy of leadership
Marty Messinger has served on the University of Rochester's Board of Trustees since 1989, and he is a Life Trustee. He has served on the Board's Academic Affairs Committee since 1997 and the Investment Committee since 1994; he was formerly a member of the Trustees' Visiting Committee.
Marty was named to the Eastman School of Music's Board of Managers in 1997 and joined the Eastman School's National Council in 2008. He is also a Charter Member of the George Eastman Circle.
In 2006, Marty received the Robert F. Metzdorf Award presented in deep appreciation by the Friends of the University of Rochester Libraries. That same year he was awarded the Charles Force Hutchison and Marjorie Smith Hutchison Medal, the highest honor given by the University to an alumnus.
The Messinger family's generosity has substantially contributed to the University of Rochester's increasing stature as a world renowned center of education, research, and service. Their caring and involvement are an outstanding example of the legacy of leadership, spanning generations, that has and will continue to support the community's commitment to the Meliora ethos: always striving to be ever better.