From the Senior Vice President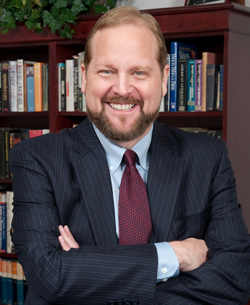 February 2009
"Let it be said by our children's children that when we were tested we refused to let this journey end, that we did not turn back."
— Barack Obama, Inaugural Address, January 20, 2009
Rockefeller Center is one of the great architectural projects of the 20th century and an icon for the world. We can appreciate this achievement better when we recall that this extraordinary building complex was envisioned and financed by John D. Rockefeller Jr. during the depths of the Great Depression. The effort was the largest private construction project of that era.
Throughout the 1920s, George Eastman worked in partnership with Rush Rhees and other leaders to transform the University of Rochester into a world-class research university. During the construction of the River Campus, on October 29, 1929, the stock market crashed and an economic depression began to spread across the globe. Through that challenging time, work on the River Campus continued unabated. President Rush Rhees dedicated campus on October 10, 1930, less than one year after the crash.
We cannot help but see comparisons between the recent global financial downturn and the events of 80 years ago. We are similarly fortunate to have leaders in our community who understand that America's research universities are essential to our nation's economic success. Board Chair Ed Hajim's transformational gift commitment in October and the tremendous support of the 1,082 donors who became charter members of the George Eastman Circle are just two examples of our shared commitment to the future of our University and to the development of our nation.
Although we face significant challenges and difficult choices, our task remains to fulfill our shared vision and build a greater University of Rochester. Future generations and a better world depend on the decisions we all make today. As we move forward, let us not forget that we are making history together.
Meliora,
James D. Thompson
Senior Vice President
Chief Advancement Officer