From the Senior Vice President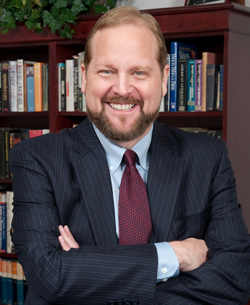 November 2011
"Great is the road I climb, but the garland offered by an easier effort is not worth the gathering."
– PROPERTIUS
This year's Meliora Weekend was unlike any other. The more than 9,200 attendees—a record-breaking turnout—witnessed history in the making, firsthand.
On Friday, October 21, President Joel Seligman publically announced the first fully modern, and largest comprehensive Campaign in our University's history. With a goal of $1.2 billion, the effort is ambitious and bold. But with the tremendous leadership of those who have already supported the Campaign, and the enthusiastic response of those in attendance who rallied around the University's mission to be "ever better," I have confidence that we will rise to The Meliora Challenge. 
The sense of excitement and momentum was just amazing throughout this remarkable weekend. President Bill Clinton delivered a thoughtful and inspiring keynote to a packed audience in the newly renovated Kodak Hall at Eastman Theatre. Several thousand others watched the address via live simulcasts. The impact of the Campaign was evident by hearing from students, faculty, patients, and all of those whom we serve. It was also evident in the capital projects that include Raymond F. LeChase Hall, the Saunders Research Building, the expansion of the James P. Wilmot Cancer Center, Robert B. Goergen Hall for Biomedical Engineering and Optics, and many others. Enthusiasm has never been greater at reunions and all of the more than 200 events that make up the weekend.
We truly made this a "Meliora Week" by also launching a $100 million campaign for the Golisano Children's Hospital on October 29, as the first of our school and unit campaigns. The Golisano Children's Hospital campaign has been propelled by a $20 million lead gift from Rochester entrepreneur, and the Hospital's namesake, B. Thomas Golisano. This campaign is part of The Meliora Challenge and includes the largest capital project at the University of Rochester to date. 
This was an extraordinary milestone in our collective efforts to celebrate and support the University we all treasure. I want to express my most heartfelt gratitude to everyone who helped to make this moment possible and such a tremendous start to our efforts. Over the coming years of the Campaign's public phase, I look forward to partnering with you and sharing our aspirations with all of the members of our University community so that the news, excitement and passion continue to spread.
Together, as one, we embrace The Meliora Challenge. Thank you for your ongoing efforts to make the University and our world ever better.
Meliora!
James D. Thompson
Senior Vice President
Chief Advancement Officer