From the Senior Vice President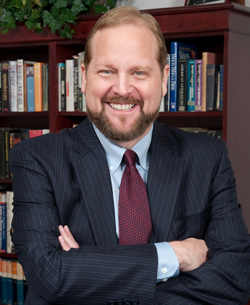 December 2011
As we approach the close of the calendar year, and begin to celebrate the holidays with those closest to us, I want to extend my warmest of wishes for a happy and healthy year to you and yours.
Thanks to the hard work we have all done together, our progress and enthusiasm leading into 2012 is tremendous. Since the beginning of this year, we have seen a remarkable outpouring of support from the University community. For example, we have received 39 commitments of $1 million or more this year. We are incredibly thankful for the momentum they produced leading into our recent public Campaign kickoff.
The Campaign is not only about reaching our goal of $1.2 billion by 2016. It is also about building a larger, distinguished national community of alumni, community leaders, parents, friends, students, and all who share an incredible pride in and excitement about Rochester.
The Meliora Challenge has come together through the support and guidance of the University's community of leaders. I am thankful for our Trustees, led by Ed Hajim, the leadership of our Campaign Cabinet, led by Rich Handler and Cathy Minehan, the vision of President Seligman and his Cabinet, and all of the incredible people who are making an impact on the University daily. 
As we look ahead to 2012, we need to build on our momentum. Part of this drive includes launching targeted campaigns for specific schools and units, such as theJames P. Wilmot Cancer Center and the Memorial Art Gallery. We will also host regional campaign kickoffs in San Francisco, Chicago and Boston. During this exciting time, we must always remain attuned to the opportunities each of us has to reach out to our own network, engage additional George Eastman Circle members, and more actively invite a friend or colleague to become involved.
Together, we are doing no less than strengthening the University as we help tackle some of society's most pressing and difficult challenges. Within our University, change begins, discoveries are made, children are healed, great human expression is created, and the leaders of tomorrow initiate their own important journeys.
Wishing you the best of the season and a Happy New Year! 
Meliora!
James D. Thompson
Senior Vice President
Chief Advancement Officer