From the Senior Vice President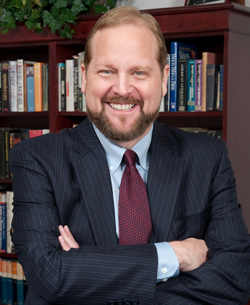 May 2012
I continue to be inspired by the exceptional contributions and the growing engagement of the alumni, parents, and friends of our University. Having dedicated much of my life to Advancement, I have seen this type of transformation and it becomes a distinguishing characteristic of an institution. Together, as one engaged body of leaders, we must be a resounding example of the impact of philanthropy.
Our Regional Cabinets are critical building blocks for uniting our alumni, parents, and friends in each region. The San Francisco Bay Regional Cabinet was one of our first cabinets to assemble. This dedicated group of volunteers has instilled energy and enthusiasm within their community on behalf of the life-changing work of the University. In celebration of our success, we will kick off the San Francisco Bay Regional Campaign on June 5. I would like to thank our volunteers, including Charles Munnerlyn '69 (PhD), inaugural chair of the San Francisco Bay Regional Cabinet, and Joe Abrams '74S (MBA), P'02 and Carol Karp '74, P'11 for serving as campaign co-chairs of The Meliora Challenge in the San Francisco Bay area.
Although enthusiastic about our continued momentum, I am saddened to share that we have recently lost one of the great pillars of our University and Medical Center who has been an example of dedication and distinguished leadership. Trustee Ernie Del Monte's life and work epitomized a commitment to improving the world around him. His support of the Medical Center will live on in perpetuity through the Ernest J. Del Monte Neuromedicine Institute and, most recently, the installation of Dr. Web Pilcher as the first Ernest and Thelma Del Monte Distinguished Professor in Neuromedicine. Ernie believed in the fundamental role of the University of Rochester in this community and beyond. His unwavering support and galvanizing vision have left a tremendous mark on our University and the lives of many. Our thoughts remain with his family and cherished friends who share our gratitude for his life and work as a member of the Rochester community.
At a time when we experience great loss, we must also remember our direction for the future. It is said that the greatest way to memorialize is to carry on living in the spirit of those who have passed on. Please click here to learn more about how Ernie's philanthropy will continue to contribute to solving some of the most pressing medical challenges of our time. 
Meliora!
James D. Thompson
Senior Vice President
Chief Advancement Officer