From the Senior Vice President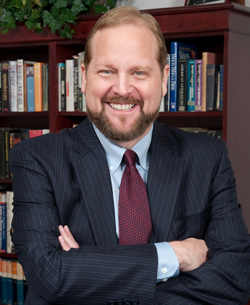 April 2013
During the month of April, we celebrated faculty excellence in the medical field at the installation ceremonies for Michael P. Eaton, M.D., as the inaugural Denham S. Ward, MD, PhD Professor and Theodore Brown, Ph.D., as the inaugural Charles E. and Dale L. Phelps Professor in Public Health and Policy. These distinctive events connected two exceptional professors with generous and visionary donors who created their positions. These academic leaders provide critical guidance through their contributions to the University. I am grateful we have had the opportunity to do this so often throughout this Campaign. 
The annual Celebration of Scholarshipsdinner turned our focus to some of the incredibly bright and talented men and women attending the University. Thanks to the support of alumni, parents, and friends, these students have the opportunity to become leaders in the fields they choose to pursue. Your gifts ensure Rochester remains a place where those with tremendous potential can thrive and lead, regardless of their family's financial situation.
Just as endowed professorships are leading the progress toward our Campaign's Faculty Support goal, scholarships and fellowships are the driving force in the pursuit of our Student Support goal of $225 million. A new initiative that will aid the effort of obtaining current-use funds for students is the George Eastman Circle Scholarship program. I encourage you to learn more about how you can use a George Eastman Circle membership to provide support to students in need by visiting the Campaign Web site.
Meliora!
James D. Thompson
Senior Vice President
Chief Advancement Officer