From the Senior Vice President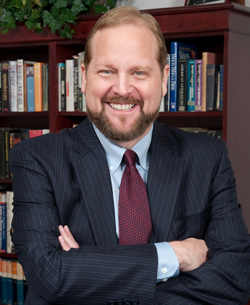 December 2012
I recently revisited a list of principles John D. Rockefeller, Sr. included in a speech he gave in 1941. These are words of guidance and inspiration that he described as fundamental and eternal. They have always resonated with me, and as the year comes to a close, I would like to share one of these with you.
"I believe that every right implies a responsibility; every opportunity, an obligation; every possession, a duty."
Here, Mr. Rockefeller describes a way of living that is embodied by our dedicated volunteers, generous donors, and talented students, faculty, staff, and friends. In a way, he is describing life lived in the spirit of Meliora. In the past year, these shared values have fueled The Meliora Challenge. The leadership, philanthropy, and progress we have enjoyed throughout 2012 have furthered our Campaign goals. In each milestone and accomplishment, I see the manifestation of our mission. We are succeeding in our mission to make the world "ever better" because that is what we believe in. I am proud to have all of you as my partners in this ongoing endeavor. Your commitment is steadfast and your efforts are tireless, and you consistently rise to the challenges we face. Thank you for another remarkable year.
Soon, if not already, many of you will begin to partake in cherished holiday traditions with family, friends, and loved ones. Enjoy them!
Happy holidays to you and your family. I wish you all the very best in the New Year.
Meliora!
James D. Thompson
Senior Vice President
Chief Advancement Officer