From the Senior Vice President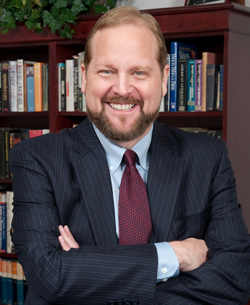 February 2013
Throughout The Meliora Challenge, our generous alumni, parents, and friends have honored others with their gifts. Often those who are honored are friends or loved ones, revered faculty, or exceptional care providers—people who have had a direct impact on their lives. Phil Saunders' truly altruistic gesture, mentioned within this newsletter, is a reminder that there are those whose impact on our lives cannot easily be seen or felt.
The display honoring veterans of the U.S. Armed Forces in the Saunders Research Building acknowledges the men and women who have bravely served and selflessly sacrificed for our country. University of Rochester faculty, students, and alumni have served in the military as far back as the Civil War. Plaques hanging in Wilson Commons commemorate the lives that were lost in past battles.
Today, students are receiving training for service as commissioned officers in the United States Navy or Marine Corps through our NROTC program. Alumnus Rear Admiral Sean Pybus '79 is still serving as a career Naval Special Warfare SEAL officer—some of you may have heard him speak at this past Meliora Weekend. And Donald Winter '69, currently a member of the Washington, D.C. Regional Cabinet, served as the 74th Secretary of the U.S. Navy from January 2006 until March 2009.
These men and women have put their own lives in danger to protect the lives of others. I cannot think of a more admirable profession, and I am proud the University's history contains so many who have chosen this path. The next time you are on the River Campus or at the Medical Center, I encourage you to visit these memorials.
Meliora!
James D. Thompson
Senior Vice President
Chief Advancement Officer