From the Senior Vice President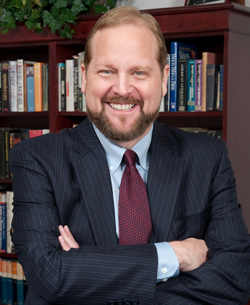 Janaury 2013
The beginning of a new year is widely thought to provide a fresh start. I am of the mind that every day presents this same opportunity. Also common is the idea that this is an opportunity to "wipe the slate clean." To me, this often seems to be counterproductive. All of the events and experiences of the previous year have brought us to today, and we should further embrace them and use them as our teachers for the future. I see this time of year as an opportunity to refocus on where we have been, where we are, and where we want to be next year.
Two days ago we celebrated the regional launch of The Meliora Challenge in Boston. More than 250 members and representatives of the entire University community came together in support of our Campaign, an effort spearheaded by the leadership of our Boston Regional Cabinet. The continuing formation of Regional Cabinets and the dedication of their members are playing a significant role in helping us bring the Campaign to our alumni, parents, and friends across the country. Later this month the Campaign will be in Miami, with plans to visit other cities throughout 2013.
As we pursue our Campaign goals, leadership from our Community of Leaders will be increasingly important. For that reason, I am very pleased to report membership in the George Eastman Circle has reached 2,500, a number 10 times the size of our original goal of 250! Since our formal launch at the Mandarin Oriental in New York City, this represents phenomenal growth. New memberships and renewals from our Charter Members have put us on track to reach our goal of 3,300 memberships by the close of The Meliora Challenge in 2016. I hope many of you will join me in celebrating this milestone at the George Eastman Circle dinner in New York City this March.
All of our goals can be reached and surpassed. By treating each day as an opportunity, setting long- and short-term goals, and working together, there is no goal we cannot accomplish. I'm looking forward to another great year of success and progress!
Meliora!
James D. Thompson
Senior Vice President
Chief Advancement Officer