From the Senior Vice President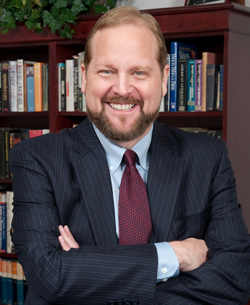 July 2013
It doesn't feel like it was that long ago that I was applauding efforts that made 2012 a year of record-breaking performance. Perhaps it is because now, in 2013, we have once again exceeded our University year-end goals in several key areas.
This year, we set a goal of $110 million in "new commitments" (new funds raised), and I'm proud to report that we finished just under $114.5 million. Our "total cash" eclipsed the University's second largest cash year (2012, $92.9 million) with a performance of ~$96 million. And thanks in large part to the impressive growth of the George Eastman Circle, we have exceeded our Annual Fund goals for the eighth consecutive year by raising more than $13.25 million—a year-over-year growth rate of approximately 7.8%.
In sum, when we closed the books on 2013, our Campaign stood at $944,994,583, which is still ahead of plan. Thank you for your leadership, your generosity, and your unyielding support of the initiatives that are sustaining and driving our progress. We continue to build a philanthropic and volunteer culture that great private universities treasure. Together we make a winning team!
As we have already begun working toward our goals for 2014, I want to share a page from the book of Herman LeRoy Fairchild. Fairchild was an internationally known geologist and University professor of geology and natural history from 1888 until his retirement in 1920. While he is probably best known for his achievements in these areas, he was fond of a motto that would serve any endeavor well: "pas à pas, on va bien loin," which is French for "step by step, one goes far."
If each of us approaches every day with a new goal in mind, by the end of the year, we will have achieved a great deal. Step by step, there is no limit to what we can accomplish!
Meliora!
James D. Thompson
Senior Vice President
Chief Advancement Officer