From the Senior Vice President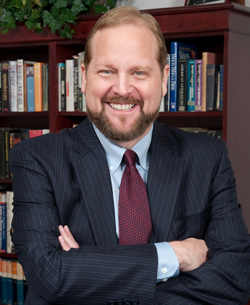 May 2013
Every October, when our community—near and far—comes together for Meliora Weekend, I think, "There is no better time of year for the University." But every May, I find myself thinking the same thing.
May 17 began the celebration of our 163rd Commencement Ceremonies that will come to a close on June 9 with the ceremony for the Simon School of Business. When all has been said and done, we will have conferred more than 3,000 bachelor's, master's, and doctoral degrees. For our students, this was a critical step in their lives.

It is not by chance that Learn is the first element in our endeavor to make the world "ever better." It is upon this foundation that our students will discover, heal, and create. Through the triumphs of our students, I can readily see us succeeding in our mission.
While our commencement ceremonies belong largely to our students, they should be equally meaningful to you—our alumni, parents, and friends. In addition to making a Rochester education more accessible through scholarships, by providing critical support to our faculty through endowed professorships like the Georgia and Thomas Gosnell Distinguished Professor in Palliative Care and the Georgia and Thomas Gosnell Professor in Quality and Safety, you are helping to enhance the quality of our students' education and experience at the University. 
This month also saw the dedication of Raymond F. LeChase Hall, made possible by leadership gifts from University Life Trustee R. Wayne LeChase and his wife, Beverly, incoming Trustee Tim Wentworth and his wife, Robin, and Michael Scandling. Just next door, construction continues to progress on Ronald Rettner Hall for Media Arts and Innovation, named to recognize the generosity of University Trustee Ron Rettner. These gifts and the supporting gifts from hundreds of other donors will give Rochester students two magnificent new buildings in which they can pursue their passions and advance these important fields of human endeavor. 

If you're going to be on campus in the near future, be sure to make time to take a tour of LeChase Hall. It's an amazing building with beautiful features. And in the fall, Rettner Hall will come online in all of its glory. I couldn't be happier about these additions to campus, and I'm confident you will feel the same.
Meliora!
James D. Thompson
Senior Vice President
Chief Advancement Officer