From the Senior Vice President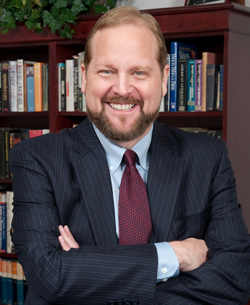 November 2012
In the spirit of Thanksgiving, I am reminded of what matters most. Recently, I have found myself reflecting on our Community of Leaders more than ever. In the aftermath of Superstorm Sandy, I have been in touch with many of our volunteers, alumni, and friends. Many have offered to help members of the University family who are in need and live in their areas. For this, I am profoundly grateful. It is a joy to see the bonds of our community holding strong during a time of great need.
The year following the public launch of our Campaign has been remarkably rewarding. I am thankful to have your partnership, your investment, and your dedication in our great shared endeavor. Together, we are making a real difference in the lives of all who are served and touched by the University. I think it is also important that we take time to appreciate those who came before us; those whose hard work and commitment put us in the position to enjoy this opportunity to live our motto of Meliora. We honor their memories by becoming the worthy ancestors of future generations.
Please take a moment to think about the Rochester people who have had a positive influence on your life and how you are making a difference in the lives of others. Although the imminent danger has passed, Superstorm Sandy continues to have an impact on the region. To those who are still being affected, you are always in our hearts and minds.
Meliora!
James D. Thompson
Senior Vice President
Chief Advancement Officer