From the Senior Vice President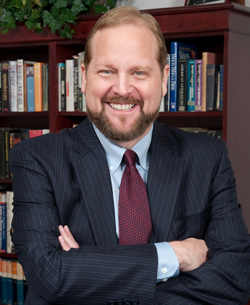 September 2012
Universities are in a season of beginnings. Probably the most clear among them is the new academic year. Some students are returning, while some are entering entirely new chapters of their lives. Recently, members of the undergraduate Class of 2016 gathered under the gaze of our George Eastman statue. Surrounding the Eastman Quadrangle, students participated in a new tradition: the annual Candlelight Ceremony. This is a key part of freshman orientation. The ceremony discusses the symbols, traditions, and world of which they are now a lifetime member.
Soon students will be joined by alumni, friends, parents, faculty, and staff to celebrate the bonds of our community and growth of our University at our 12th Meliora Weekend. This year also marks the return of Eastman Weekend, which is celebrated as a part of Meliora Weekend on a biennial basis.
At the Medical Center, we've broken ground for the construction of the new Golisano Children's Hospital, and the pathways of the Memorial Art Gallery's Centennial Sculpture Park have begun to take form. Between Wilson Commons and Morey Hall, Ronald Rettner Hall for Media Arts and Innovation will soon begin to take shape and it will not be long until Raymond F. LeChase Hall is alive with student activity. Later this month we will launch Chicago's regional campaign, with Boston's to follow soon after. It will be a busy, active, and vibrant fall.
We are also approaching the one year anniversary of The Meliora Challenge's public launch, and with its passing, we begin a "new year." As the Campaign moves forward, I ask you to remember this is your Campaign. We are all a part of the University community. For a comprehensive Campaign of this size to be successful, it must be "owned" and led by many. This ispart of our Meliora Challenge. Thank you for your great partnership!

Meliora!
James D. Thompson
Senior Vice President
Chief Advancement Officer