Athletic Annual Fund Challenge


Accept the Challenge!
Rochester Athletics is continuing to issue a special challenge to all teams – to obtain the highest percent participation of alumni donors. Each team is competing for the top spot in the competition, and your gift to the annual fund can help your team – and thousands of students - win! 
Men & Women's Crew were the winning team in 2013! They secured the benefit of making a gift to support their team, won bragging rights for the year for having the most supportive alumni and received additional funding for their team!
Annual Fund support of the Rochester Athletics helps teams continue to succeed by providing support for national recruiting, specialized equipment, non-budgeted post-season expenses, foreign trips, and much more.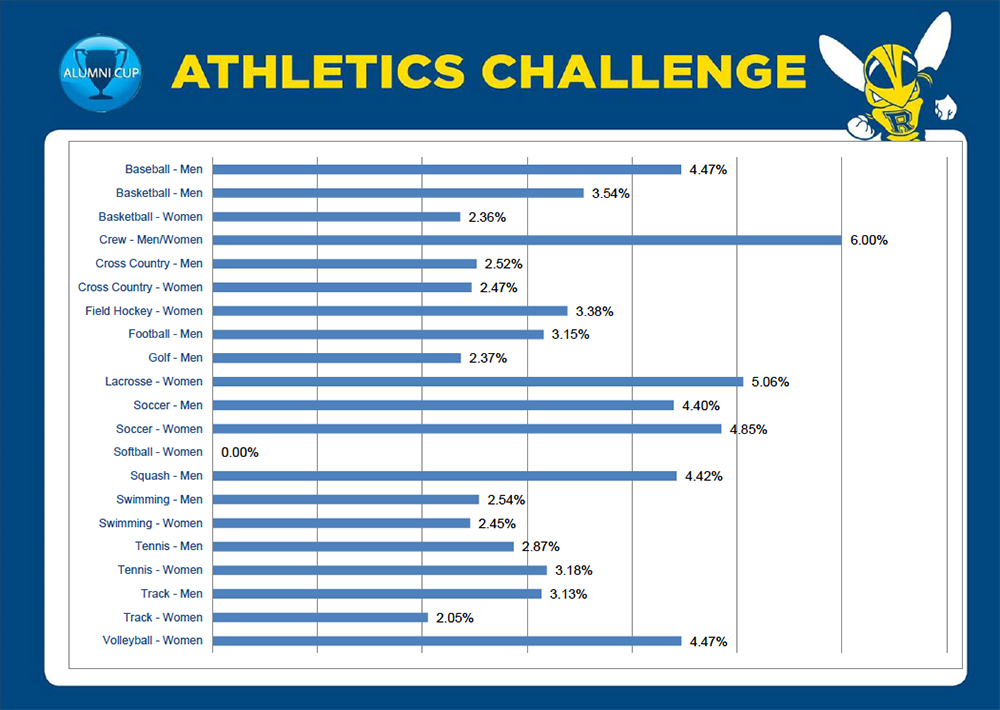 Click chart to enlarge
Every year, the winning team also receives the UR Alumni Cup trophy to sit in the coach's office for the year and a permanent plaque for the coach's office wall. You can make a gift directly to your favorite program or to the general Athletic Annual Fund. In each case, the sport you participated in will get credit for your gift. Multi-sport athletes who make a gift will see each of their respective sports credited by making a single gift. Simply click the MAKE A GIFT button above to make your gift online.
Please remind your teammates to participate by making a gift!
The winner will be announced at the end of the fiscal year, June 30.  But the real winners are our students – athletes who are able to compete because of your continued support.  Thank you for being part of our winning team!