March Matchness and Annual Alumni Cup Challenge

March Matchness
4 Days. 21 Teams. 1 Goal. It was an incredible four days for the University of Rochester varsity athletic teams as the community of alumni, parents and fans rallied to push their teams to the top. Congratulations to Women's Soccer, Field Hockey and Softball who placed first, second and third for alumni participation. And Men's Soccer also took the top spot for parent participation, way to go! Every team was a winner, as our generous community rallied to donate nearly $94,800 to our programs collectively. We all share this victory. Go 'Jackets!
Annual Fund support of the Rochester Athletics helps teams by providing support for national recruiting, specialized equipment, non-budgeted post-season expenses, funding for foreign trips, and much more. Push your team to the top of the standings today!
Visit the March Matchness website to see the current standings or make your gift.

Women's Soccer Takes the Victory in the Alumni Cup Challenge
The competition was fierce all year long, but Women's Soccer pulled ahead with 35% participation, to become the winner of the 2018-2019 Alumni Cup Challenge!
The Alumni Cup is year-long competition for having the highest percent participation amongst alumni of that program. Along with the Annual Fund trophy, and a permanent plaque recognizing that accomplishment, there is also a cash prize that will be awarded to this year's winning team.  
The competition has already begun for the 2019-2020 year, and you can make your gift directly to your favorite program, or the Friends of Rochester Athletics Annual Fund. In each case, the sport you participated in will get credit for your gift. Multisport athletes who make a gift will see their respective sports credited by making a single gift. Your gift will have the benefit of supporting the team, but also bragging rights for a full year as to who has the most supportive alumni!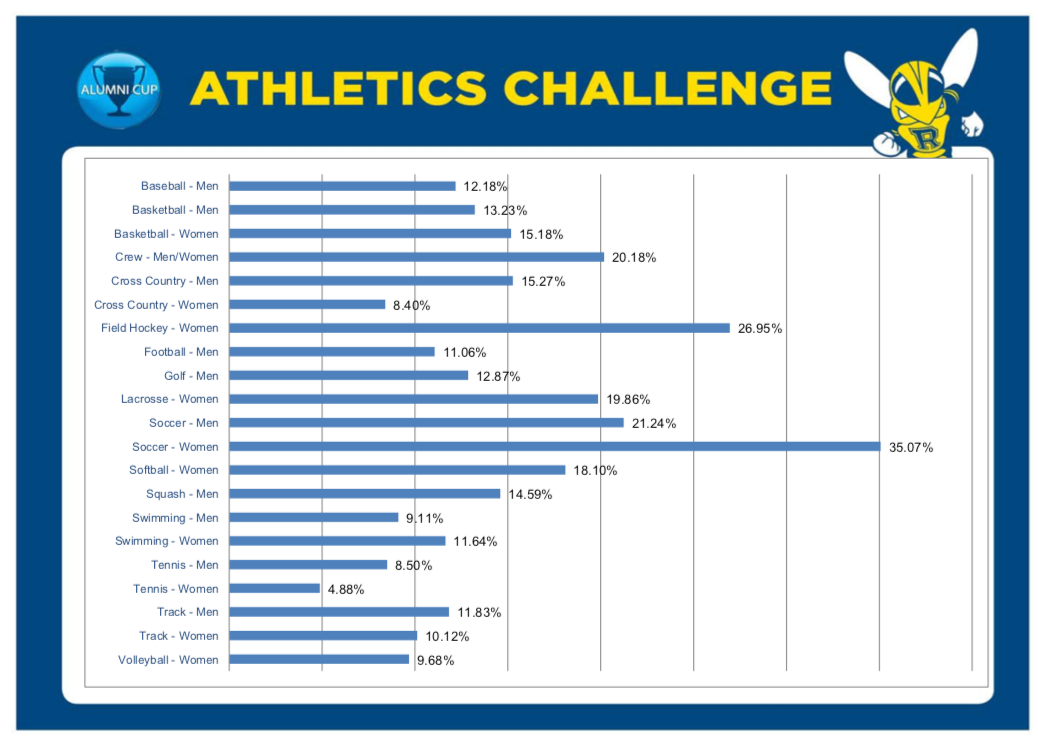 Click chart to enlarge