"3D Digital Archaeology: Reconstruction, Analysis, and Conservation of Cultural Heritage"
Wednesday, December 4, 2013
Noon–6:30 p.m.
Eisenberg Rotunda of Schlegel Hall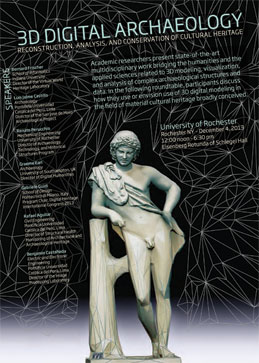 The field of 3D digital archaeology is undergoing a dramatic growth, creating the ground for emerging multidisciplinary methodologies for the study and conservation of cultural heritage. A broad spectrum of 3D technologies - ranging from GIS to laser scanning and virtual 3D modeling - are increasingly being applied in a variety of fields in the humanities including archaeology, architectural history, anthropology, and art history leading to major changes in the way these disciplines are conducting their work. On the side of applied sciences, similar 3D digital technologies are finding increasing applications in dynamic monitoring, visualization, and engineering analysis of cultural heritage with particular application to complex archaeological structures. The objective of the symposium is to promote the interdisciplinary dialog on 3D digital archaeology necessary for the development of innovative and potentially far-reaching multidisciplinary approaches.
Co-sponsored by the Humanities Project, University of Rochester School of Arts and Sciences; the Central New York Humanities Corridor, from an award by the Andrew W. Mellon Foundation; and by the Program in Archaeology, Technology, and Historical Structures through the Selwyn Endowment Fund.