The College Prep Center at Franklin Educational Campus
The College Prep Center at Franklin High School is a partnership of the University of Rochester's David T. Kearns Center for Leadership and Diversity in Arts, Sciences and Engineering and the Office of Enrollment, Franklin High School.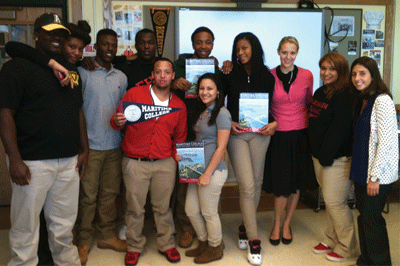 The center works to empower all students at Franklin High to realize their academic and career potentials through preparation for successful college enrollment. All students at Franklin will see themselves as potential college students, and have access to accurate and relevant information about the process of preparing for and successfully enrolling in college with appropriate financial aid and scholarship assistance.
The hours of operation are Tuesday through Friday 8:00 a.m. - 5:00 p.m. in Room 255.
The center creates interactive programming to reach out to all students at Franklin High School. Programming takes place within the school and in the community. Partnerships with community members, local colleges, and business leaders allow for college and career immersion experiences.
Individual services:
Academic advising
Tutoring/homework help
SAT registration
Career exploration
College search
College application assistance
Regents prep
Group services:
College admissions visits
Area college field trips
College Fairs
Classroom workshops
Parent engagement workshops
Career Fairs
SAT prep course
If you are interested in partnering with the College Prep Center for field trips or campus-wide events, please contact Serenity Lovett or Aye Wathy Myat.
Workshops
The College Prep Center collaborates with teachers from all departments to provide resources and information to groups of students about the college process. Students in all grades benefit from these workshops because they learn how to critically examine their current academic standing as it relates to planning for a future career. Advisors tailor each workshop topic to the individual needs of the students and teachers we work with.
If you'd like to partner with the College Prep Center for a workshop listed below, please contact Serenity Lovett or Aye Wathy Myat.