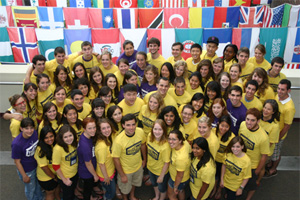 Apply to be an Orientation Leader!
Have you ever wondered what you can do to change someone's UR experience?
Shape the future of a new student's life at the University by planning and implementing Orientation for the Class of 2019 and new entering students! This is a full-time - 35 hour/week - paid summer job. Have an impact on the University, and a experience a job like no other!
Information Sessions
If you have questions, attend an information session to speak with a current Orientation Leader.
Information Sessions will be held in the Wilson Commons Stackel Room (2nd Floor), on:
January 15th from 12:30pm-1:30pm
January 19th from 12:00pm-1:00pm
January 21st from 5:00pm-6:00pm
January 30th from 4:00pm-5:00pm
Applications are due Friday, February 6th by 5:00 pm to 312 Lattimore Hall. Applicants will be required to attend a group interview.
Group Interview times:

February 8th, 6:00-8:00 PM
February 9th, 7:00-9:00 PM
Questions? E-mail matthew.spielmann@rochester.edu with any questions.
Interested in being an Orientation Volunteer?
Want to come back 9 days early and wear a yellow shirt? Do you like answering questions, hanging out with students and sharing your experiences thus far? If so, you would make a great International Student Mentor or Orientation Volunteer! Applications will be posted online soon.