Industry Collaborations Create Real-World Applications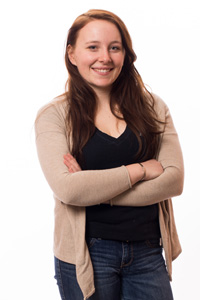 A critical material used to make precision optics is only available from foreign sources. Export restrictions have caused major price swings, and this has resulted in significant cost uncertainties for optics manufacturers, several of which are in the Rochester region.
Tess Jacobs, a Hajim School undergraduate, is helping to find a solution at the Laboratory for Laser Energetics.
The Institute of Optics junior is working with two Rochester companies, testing the relative effectiveness of two different methods for recycling a polishing slurry that contains cerium oxide, by removing waste products after it is used. Her project is funded by the U.S. Department of Energy.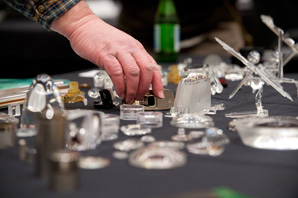 This is an example of the kind of industry-university partnership that is enabled by the Center for Emerging and Innovative Sciences (CEIS), which will hold its 14th annual University Technology Showcase on April 10 at the Eastman Business Park's Theater on the Ridge.
CEIS brings together companies and university researchers that have areas of common interest, and encourages them to collaborate. As one of 15 Centers for Advanced Technology funded by NYSTAR, a division of the New York State Department of Economic Development, CEIS also provides matching state funds to magnify the impact of corporate-sponsored research in existing labs at its partner universities.
For the current academic year, CEIS is providing financial support to 23 principal investigators working with 13 different companies on 21 projects. Total funding for the 2013–14 year is projected to be $450,000.
"The primary focus of CEIS is in the areas of optics, photonics, and imaging; industries that are vital to the Rochester region and where we compete on a global scale," said Paul Ballentine, CEIS deputy director.
For example, OptiPro Systems LLC, an Ontario, N.Y., company that develops and manufactures precision optical fabrication machines and metrology systems, has been working with Jon Ellis, an assistant professor of mechanical engineering and of optics. They've been working on two projects: fabrications of corrective optics for aerodynamic domes, and ultraform belt and grinding development.
In addition, Harris Corp., the international communications and information technology company, is collaborating with Wendi Heinzelman, professor of electrical and computer engineering. She has been working with the company to develop protocol architectures for multimedia radios.
Jacobs said her project involves doing a couple of experiments on the slurries, "comparing the original and the recycled ones to see how they chemically differ." She is getting hands-on experience with optical polishers and metrology equipment, such as white light interferometers. 
"It's really interesting," she says. And it is definitely research with real-world applications.