Undergraduate Research Exposition
Friday, April 16, 2021
The Office of Undergraduate Research cordially invites you to this year's Virtual Undergraduate Research Exposition! Even though we aren't hosting an in-person Expo this year, we are determined to show our unwavering support of our student researchers and their mentors.
On Friday, April 16, please join us in viewing, asking questions, and commenting on student presentations and posters. In addition to projects in Engineering and Mathematics, Humanities and Performance, Natural Sciences, and Social Sciences, we are happy to feature three special guests: Center for Community Engagement's Community Engaged Scholarship Cohort, the Humanities Center's Meliora Scholars, and Hajim's Grand Challenges Scholars.
SCHEDULE OF EVENTS
9:50 a.m.: Welcome & Introductory Remarks (via Zoom)
Dr. Sina Ghaemmaghami, Director of the Office of Undergraduate Research 
10:00 a.m.: Engineering & Math Symposium (via Zoom)
Mimi Jung '22 Biomedical Engineering

Computational Model for Epithelial Cell Reintegration
Margaret Flaum '22 Optical Engineering 

Using Holography to Measure Freeform Optics
Leonor Teles '21 Biomedical Engineering

Comparison of Steady and Transient Flow in Carotid Artery CFD Simulations 
        Engineering & Math Abstracts here
11:00 a.m.: Humanities Symposium (via Zoom)
Eleanor Lenoe '21 History; Japanese

The Aum Affair: Censorship, Scholarship, and the Mass Media in Japanese Reactions to Terrorism 

 
Julia Granato '22 Archaeology,Technology &Historical Structures;Ecology& Evolutionary Biology 

Dead and Unburied: Human Remains in Museums 

 
Alydia Meinecke '21 Biology and Dance Studies 

Dance and Movement Patterning: A Tool to Explore the Physical Symptoms of Autism Spectrum Disorder
Humanities Abstracts here 
Guests may leave comments or ask questions ( "Join the Discussion" button - a simple email registration process is required)
Some presenters will be available for live chats ("Chat with Presenter" button)
Some poster presentations will have video or audio components ("Watch Presentation"  button)
1:00 p.m.: Natural Sciences Symposium (via Zoom)
Shawn Cummings '21 Brain and Cognitive Sciences; Linguistics

Causal Inference in Speech Perception

 
Huishan Shi '22 Microbiology  

 

Investigating the Role of the Tight Junction Protein, Claudin-1, in Differentiation and Viral Infection of Human Epidermal Cells
Gladiana Spitz '21 Computational Biology 

 

Social Effects of Family Members on Juvenile Fitness in the Florida Scrub-Jay
Natural Sciences Abstracts here
2:00 p.m.: Social Sciences Symposium (via Zoom)
Lejla Sose '22 Neuroscience; Psychology 

 

Effects of Prenatal Stress on Cytokine Levels and Placental Vascularization

 
Pramod Manohar '23 Economics; Mathematics 

 

The Impact of Weather Shocks on Crop Yields: Evidence from India

 
Amanda Liang '21 Interdepartmental Humanities: Argument & Advocacy 

 

Amidst Violence: Community and Catharsis at the Site of Protest 
Social Sciences Abstracts here
3:00 p.m.: Closing Remarks (via Zoom)
*Posters will be available for viewing beginning on April 16 at 9:00 a.m. and will remain accessible for one year.
---
Overview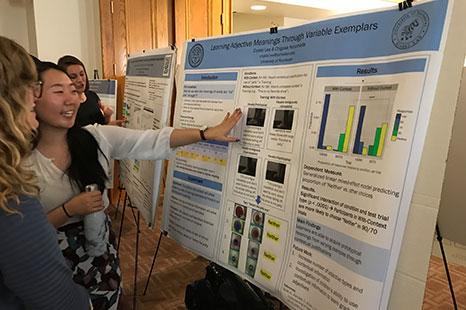 The Undergraduate Research Exposition is a College-wide event in which University of Rochester students at all levels and in all areas of study are invited to present their investigative and creative work. The Expo reflects the passion for learning that enlivens the University, professors and students alike, and that finds expression in varied forms, in every area of study.
Symposium
The Symposium will consist of four sessions on Friday, April 16 (hourly from 10:00 am–noon and 1:00–3:00 pm), each representing a distinct disciplinary section of the College: humanities, social sciences, engineering and mathematics, and natural sciences. There will be three presenters during each session; each speaker will give a 10-minute presentation with 5 minutes of Q & A immediately following.
Poster Presentation
The Poster Presentation Fair will serve as a place for all undergraduate students who have conducted research in the last year to present their findings to the College community and beyond. The Poster Fair will be made public on the morning of April 16, 2021. Visitors may chat with those presenters who are available from noon until 1:00 pm.
The following Expo Awards will be announced on Monday, April 19:
President's Award: Awarded to the top oral presentation from each of the four disciplinary areas of the Symposium
Deans' Award: Awarded to the other participants selected for a Symposium presentation
Professors' Choice Award: Awarded to four students participating in the Poster Fair, one from each of the four disciplinary areas
In addition, the College Award for Undergraduate Teaching and Research Mentorship will be featured.
---
How to Get Involved
Students who have engaged in research and who are interested in participating in the Symposium or the Poster Fair are requested to fill out an application form by the Monday, March 15 deadline. We will accept recommendations until Friday, March 19.
Whether or not you are involved in undergraduate research, we invite you to attend the Exposition and see some of the exciting things your fellow students are doing.
Application Procedure for Students
Students interested in participating in the poster fair and/or speakers symposium should fill out an application form. Your supervisor need not be a Rochester faculty member; letters in support of your presentation may be written by your mentor/P.I. regardless of location, institution, or affiliation.
PLEASE NOTE:
It is NOT necessary that the research was conducted at Rochester.
All current University of Rochester undergraduates may submit an application.
Only one application per project is necessary. If submitting a co-presented project, please designate one student as communications liaison to complete the application. Add a "co-presenters: Full Name, major(s), and class year" line to the top of your abstract.
Please make every effort to be available from noon–1:00 pm on Friday, April 16 to engage with visitors via chat.
Judges reviewing the applications will be looking for the following:
Quality of research
Student's command of the subject
Topic interest to a broad audience

Important Dates
February 10 – Expo application opens
March 15 – Student applications due by midnight
April 1 – Notification of decision on submissions will begin during the first week of April
April 9 – Confirm attendance and submit revisions and/or poster (for Poster Fair participants only)
April 16 – Undergraduate Research Exposition
The University of Rochester is committed to providing inclusive experiences and equal access to programs and services.  If you anticipate needing any type of accommodation, please contact Ann Robinson (ann.robinson@rochester.edu).  In all situations, a good faith effort (up until the time of the event) will be made to provide accommodations.