Undergraduate Research Exposition
Expo 2021 was held on April 16
Even though we weren't able to host an in-person Expo in 2021, we are proud to have been able to show our unwavering support of our student researchers and their mentors.
On Friday, April 16, visitors were able to view, ask questions, and comment on student presentations and posters. In addition to projects in Engineering and Mathematics, Humanities and Performance, Natural Sciences, and Social Sciences, we were happy to feature three special guests: Center for Community Engagement's Community Engaged Scholarship Cohort, the Humanities Center's Meliora Scholars, and Hajim's Grand Challenges Scholars.
*Posters will remain accessible for one year.
The following Expo Awards were announced on Monday, April 19:
President's Award: Awarded to the top oral presentation from each of the four disciplinary areas of the Symposium
Deans' Award: Awarded to the other participants selected for a Symposium presentation
Professors' Choice Award: Awarded to four students participating in the Poster Fair, one from each of the four disciplinary areas
In addition, the College Award for Undergraduate Teaching and Research Mentorship was featured.
---
Overview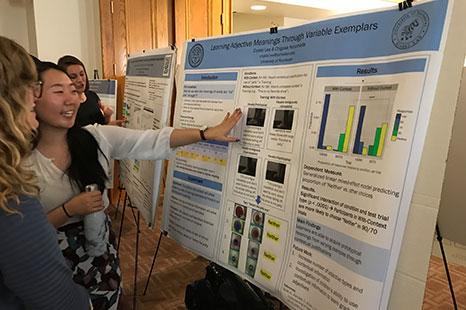 The Undergraduate Research Exposition is a College-wide event in which University of Rochester students at all levels and in all areas of study are invited to present their investigative and creative work. The Expo reflects the passion for learning that enlivens the University, professors and students alike, and that finds expression in varied forms, in every area of study.
Symposium
The Symposium will consist of four sessions on Friday, April 16 (hourly from 10:00 am–noon and 1:00–3:00 pm), each representing a distinct disciplinary section of the College: humanities, social sciences, engineering and mathematics, and natural sciences. There will be three presenters during each session; each speaker will give a 10-minute presentation with 5 minutes of Q & A immediately following.
Poster Presentation
The Poster Presentation Fair will serve as a place for all undergraduate students who have conducted research in the last year to present their findings to the College community and beyond. The Poster Fair will be made public on the morning of April 16, 2021. Visitors may chat with those presenters who are available from noon until 1:00 pm.
---
How to Get Involved
Students who have engaged in research and who are interested in participating in the Symposium or the Poster Fair are requested to fill out an application form by the March 15 deadline. We will accept recommendations until five days after the student deadline.

Whether or not you are involved in undergraduate research, we invite you to attend the Exposition and see some of the exciting things your fellow students are doing.
Application Procedure for Students
Students interested in participating in the poster fair and/or speakers symposium should fill out an application form. Your supervisor need not be a Rochester faculty member; letters in support of your presentation may be written by your mentor/P.I. regardless of location, institution, or affiliation.
PLEASE NOTE:
It is NOT necessary that the research was conducted at Rochester.
All current University of Rochester undergraduates may submit an application.
Only one application per project is necessary. If submitting a co-presented project, please designate one student as communications liaison to complete the application. Add a "co-presenters: Full Name, major(s), and class year" line to the top of your abstract.
Judges reviewing the applications will be looking for the following:
Quality of research
Student's command of the subject
Topic interest to a broad audience

Important Dates
February 10 – Expo application opens
March 15 – Student applications due by midnight
April 1 – Notification of decision on submissions will begin during the first week of April
TBD – Undergraduate Research Exposition 2022 (usually held on the third Friday in April)
The University of Rochester is committed to providing inclusive experiences and equal access to programs and services.  If you anticipate needing any type of accommodation, please contact Ann Robinson (ann.robinson@rochester.edu).  In all situations, a good faith effort (up until the time of the event) will be made to provide accommodations.