Editing an Existing Page
Problem
You want to edit a page that is already in the WCMS.
Solution
To simplify the editing process, the WCMS uses standardized layouts, which allows you to concentrate on the content without worrying about the design. When you open a page, much of what you see in the layout view is built-in and does not need to be changed. Your main responsibility as a contributor in the WCMS is the content in the main content area.
To edit content:
Select a page in the Asset Tree at the left
Click the Edit tab
Edit the content by making the desired changes to the text in the content fields
Click Submit
Your changes will be saved in the WCMS after you click Submit, but they will not appear in your website until the page is published.
TIP: If you click outside of the Edit form before you click Submit, you will see a dialog that asks, "Are you sure? This page is asking you to confirm that you want to leave - data you have entered may not be saved." This message is there to help you avoid losing any changes that you made to this page. If you want to save your changes, then click "Stay on Page" and then Submit. If you do not want to save your changes, then click on "Leave Page."
The figure below, shows both plain content fields and a WYSIWYG content field. The content fields on your pages may vary, based on the type of content displayed on the page.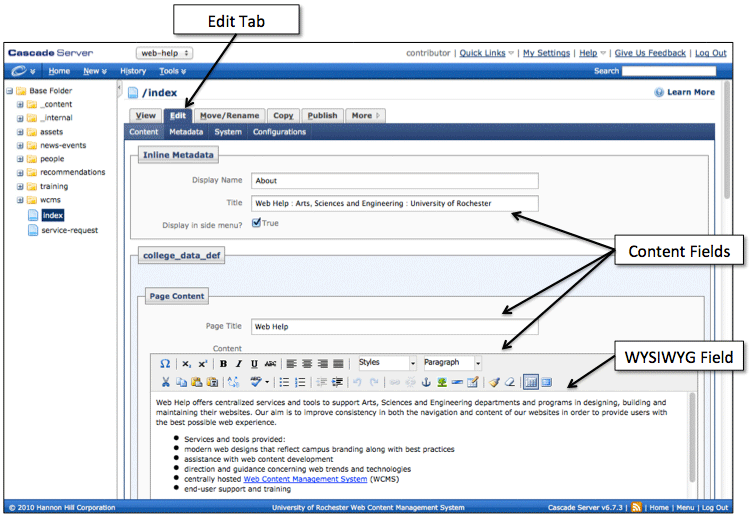 Editing the index page.
---