Staff Diversity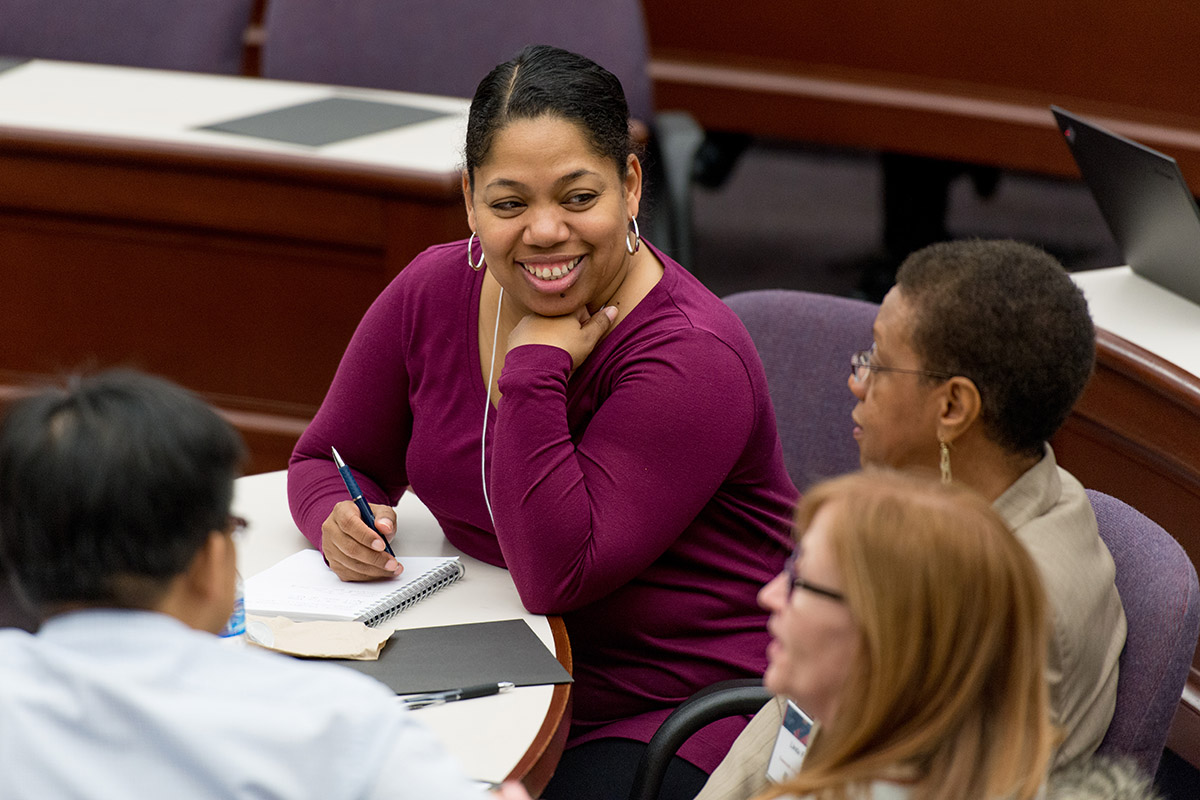 Staff make up the largest and most diverse group in the University. There are many efforts underway to attract and retain diverse staff at all levels.
Career Counseling
The Office of Human Resources offers general career counseling to employees on a one-on-one basis. There also is a Career Guide employees can use as a self-service career reference.
Recruitment and Job Openings
Links to professional associations and other national resources focused on workplace diversity.
The Office of Human Resources provides job listings at all levels of the University.
Find out more about why Rochester is such a great place to live and work.
Training
Diversity, inclusion, and equity education and training are an essential part of building awareness and a cohesive work environment and are offered several times throughout the calendar year. These skill-building opportunities are designed to inspire sensitivity and increase awareness. In addition, they are utilized to inform the community about Affirmative Action and Compliance practices at the University.
Harassment and Discrimination Training Online Program
All University employees received instructions to complete an online Harassment and Discrimination Training program, which is an important part of our ongoing efforts to create a working environment that is free from discrimination, harassment, and sexual misconduct. This mandatory online training addressed discrimination and harassment in the workplace and the ways that employees may recognize it and safely intervene.
Implicit Bias/Micro-Aggression
Through experiential learning, participants will explore how unconscious bias, a natural part of the human experience, impacts their decision making within the workplace. Participants will be exposed to the concept of unconscious bias and how it may impact their own interpretations of information and the ways in which they individually see the world. Participants will discover ways that they can approach and reduce the impact of their own implicit biases—which results into micro-aggressions. This training is lead by the UR Implicit Bias Team featuring staff and faculty volunteers at the university.
Cultural Humility
Defined as a lifelong process of self-reflection and critique, cultural humility is a philosophy that empowers individuals to effectively engage in interpersonal relationships that are dynamically diverse and mutually respectful even when challenging. Cultural humility provides a framework for individuals to increase their understanding of the significant funds of knowledge that exists within each person's cultural backgrounds and identities. Unlike cultural competence, cultural humility is an ongoing process in which individuals expand their capacity for learning, listening, and understanding, regardless of the length of time they have spent relating to cultures other than their own. By deepening their cultural humility, individuals are then able to recognize and actively deconstruct existing power imbalances within their immediate social and organizational structures and rebuild structures in which cultural humility is practiced and modeled.
Safe Space
The Safe Space program addresses ways to reduce homophobia and heterosexism to make our institution a safer and freer environment for all members of our community regardless of sexual orientation or gender identity/expression. The program consists of three classes: Safe Space Part I: Foundations of Being an Ally, Safe Space Part II: Inclusive Practices for Allies, and a new course entitled Trans 101: which focuses specifically on identifying inclusive practices that are necessary for supporting transgender and gender non-conforming individuals. All Safe Space classes are conducted by University staff and faculty who are trained Safe Space facilitators.
University Resource Groups
Open to all University of Rochester faculty, staff, and retirees, these groups serve as a resource to provide mentoring and professional development opportunities as well as ways to engage with University and community leaders. Resource Groups play a significant role in talent acquisition, retention, talent development, and community engagement.
Deaf and Hard of Hearing (website coming soon)