University Intercessors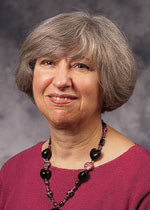 Harriette Royer welcomes your inquiries about fostering respectful and inclusive environments at the University, ensuring accommodations for those with disabilities, working through interpersonal and group differences, intervening in and mediating difficult situations, and providing information and support in stressful situations such as relationship violence and sexual assault. She is particularly interested in serving as a sounding board for resolving your concerns about trust, harassment, and discrimination or other University-related problem.
Harriette.Royer@rochester.edu  ∙ (585) 275.9125
Frederick Jefferson, Ed.D. specializes in issues related to racial and ethnic diversity.
jefferson@admin.rochester.edu
Role of the Intercessors
The goal of the Intercessor is to promote a respectful, inclusive university for all members of the community by resolving disputes, challenging perceptions, and advocating for fairness at the University.  For over 40 years, University Intercessors, appointed by the Provost, have been untangling complex problems and unresolved interpersonal and departmental issues with staff, faculty and students who call on them for help. 
Situations of any nature can be brought to the Intercessor.  Individuals who feel that they have been treated unfairly, inequitably, improperly, or in a biased manner may seek their help. Intercessors employ an informal process aimed at restoring the relationship among the individuals, mediating differences, resolving problems, and rebuilding trust. All interactions are confidential.
An informal process begins when one or more individuals engage the Intercessor in a confidential conversation where options for working through the issue are generated. The informal process is best employed before an individual decides to file a formal grievance or complaint.
From their University-wide activities, Intercessors gain insights about problems that would best be addressed at policy or systems levels, and may identify, influence, or recommend policy or systems changes to resolve them.  They actively collaborate with others to provide training, programs, and educational interventions aimed at preventing harassment and discrimination and fostering respect and inclusion.
Role of the Coordinator of University Disability Resources
All individuals with disabilities – whether you are studying, working, or visiting at the University - are invited to speak with Intercessor Harriette Royer about reasonable accommodations.  As the Coordinator of University Disability Resources, she collaborates with the Disability Coordinators in each of the schools, the Director of Equal Opportunity Compliance, the Human Resources staff, and the Manager of the Return to Work program to assure that the University's policy on accommodations is implemented appropriately for all.  Harriette welcomes your calls, emails and requests for a confidential appointment to discuss your disability-related questions and options.
---