Ten Years Later:
Rochester Remembers 9/11
---
Remembrance Wall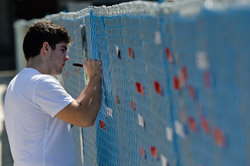 Students share their memories on the 10th anniversary of September 11.
---
Honoring a Legacy: The Jeremy Glick Scholarship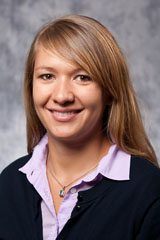 Doctoral student Karyn Schmidt feels a kinship with one of the six University of Rochester alumni who died on Sept. 11, 2001.
She received the first memorial scholarship in honor of Jeremy Glick, who perished on United Flight 93 that day. "It is a huge honor to be associated with him," says Schmidt '07, '10M (MS), an alumna who is now completing her doctoral studies in biochemistry at the University of Rochester School of Medicine and Dentistry.
---
"Family Remains Inspired by Sept. 11 Hero Jeremy Glick"
USA Today
Jeremy's Heroes is a nearly 10-year-old non-profit that has given hundreds of children and young athletes opportunities in sports they otherwise would not have had while asking them to do something in return: give back to their communities by performing service projects in their schools and neighborhoods. It's a relatively small, grassroots organization based in New York that its namesake would have loved, if only he could have known about it.