Election Day 2012
Polling Places
Polls will be open from 6 a.m. - 9 p.m. on Election Day, November 6.
For students who are registered using your UR address (excluding Riverview), your polling site is Saunders Research Building on Crittenden Blvd. (near the Medical School).
For students registered at your Riverview Apartments address, your polling place Kennedy Towers at 666 S. Plymouth Ave. in Rochester.
For Eastman School of Music students registered at Eastman's Student Living Center, your polling site is the YMCA at 444 East Main St. in Rochester.
---
Watch Party
After you've voted, join the Committee for Political Engagement to watch the returns and enjoy free food beginning at 9 p.m. in Wilson Commons, Hirst Lounge.
Find more Election Day information provided by the Rochester Center for Community Leadership.
Politics in the News
At Issue: Election 2012
As the 2012 election season hits full stride, Rochester Review turns to faculty experts for insight on some of the key issues.
Health Care Reform History Through Humor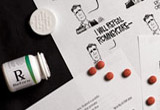 Featuring more than 200 examples of the century's best political art, a new history of health care reform by history professor Theodore Brown provides an entertaining review of 100 years of partisan wrangling over medical insurance.
We're Not So Different You and I
One democrat, one republican. One sophomore, one senior. Two internships with competing congressional election campaigns. Bitter rivals? Hardly.
Election Special: Psychology of Probability
Brain and Cognitive Sciences professor Ben Hayden on why we aren't very good at interpreting election forecasts.
Campus Political Groups Rev Up for Presidential Election
Local Rochester news station WROC-TV News 8 featured both the College Republicans and the College Democrats as they gathered to watch their party's National Conventions this summer.