University Communications
Faculty Experts Directory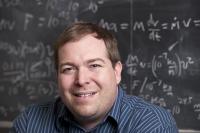 High-resolution image
(please include photo credit)
Eric Mamajek
Assistant Professor
Arts, Sciences, and Engineering

Department of Physics And Astronomy

Areas of expertise: Exoplanet detection, stellar evolution, star formation
Press contact:
Peter Iglinski
585.273.4726

Related Links:

In the News

Christian Science Monitor
'Scientific wonderland' expected as spacecraft approaches Pluto
April 18, 2015
Deccan Herald
Alien star buzzed the Sun 70,000 years ago
March 10, 2015
VOA
Small Star Passed Through the Edge of Our Solar System 70,000 Years Ago
March 06, 2015
Scientific American
Star Buzzed Our Solar System during Human Prehistory
February 21, 2015
The Daily Mail (UK)
Close encounters of the starry kind: Red dwarf passed within just 0.8 light years of our solar system
February 19, 2015
New Scientist
Stellar intruder's daring fly-by of the solar system
February 19, 2015
England BBC News
Alien star system buzzed the Sun
February 18, 2015
NBCNews.com
Alien Star Missed Us by Less Than a Light-Year, Scientists Say
February 18, 2015
Sky & Telescope
Gap Reveals Potential Exomoon
February 04, 2015
Examiner.com
Massive alien ring system is much larger than Saturnís, and may contain exomoons
February 01, 2015
Voice of America
Huge Ring System Surrounds Newly Discovered Exoplanet
January 30, 2015
BBC News
Distant exoplanet hosts giant ring system
January 27, 2015
Time Magazine
Rings Like Saturn's, but Supersized
January 26, 2015
Alaska Dispatch
What's that Jupiter-like thing doing so far afield from nearest star?
December 06, 2013
Astronomy Magazine
Researchers find that bright nearby double star Fomalhaut is actually a triple
October 08, 2013
PhysOrg.com
Researchers find that bright nearby double star Fomalhaut is actually a triple
October 03, 2013
Sky and Telescope
Subaru Sees New "Planet" Directly
August 09, 2013
YNN Rochester
Two Spectacular Events in One Day for Scientists Watching the Skies
February 15, 2013
Red Orbit
The Search For Alien Life With Guest Dr. Eric Mamajek (Part 3): Your Universe Today Podcast
January 14, 2013
Red Orbit
Your Universe Today Podcast: Planet Hunting, With Guest Dr. Eric Mamajek (Part 2)
January 07, 2013
Red Orbit
Your Universe Today Podcast: How Planets Form, With Guest Dr. Eric Mamajek (Part 1)
December 31, 2012
Yahoo! India
Saturn-like ringed planet found eclipsing sun-like star
January 15, 2012
Discovery Channel
'Saturn on Steroids' Exoplanet Discovered?
January 12, 2012
San Francisco Luxury News
Young stars may be twice as old than previously thought
December 23, 2011
Biography
Eric is an observational astrophysicist whose primary research interests are the formation and evolution of planetary systems, stars, and stellar groups in our Galactic neighborhood. His recent and on-going research projects and collaborations involve quantifying and trying to understand the evolution of protoplanetary and dusty debris disks around normal stars, improving distance and age estimates to astrophysically interesting stellar, protostellar, substellar, and planetary systems, and surveys to image extrasolar planets and substellar companions to nearby stars in the near- and thermal infrared. He has also recently discovered a few new nearby young stellar groups in the solar neighborhood within a few hundred parsecs of the Sun, and is interested in investigating the recent star-formation history and kinematics of the solar neighborhood and what it can inform us about star-formation mechanisms. He also recently co-authored a paper on the observational consequences of protoplanet collisions.