University Communications
Faculty Experts Directory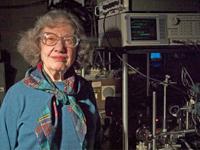 High-resolution image
(please include photo credit)
Esther Conwell
Research Professor
Arts, Sciences, and Engineering

Department of Chemistry

Areas of expertise: Electron flow in semicondcutors; electron movement through DNA.
Press contact:
Peter Iglinski
585.273.4726

Related Links:

In the News

Rochester Democrat & Chronicle
Area commencement ceremonies to honor nearly 17,000 college graduates
May 09, 2013
WXXI
WXXI AM News - Meet pioneering scientist Esther Conwell
September 15, 2011
Nature (Scitable)
Women in Science
January 04, 2011
National Science Foundation
Esther Conwell heard early in her career that women could not be engineers.
November 24, 2010
Rochester Business Journal
Obama to honor innovators with local ties today
November 18, 2010
ABC News
Obama Bestows Science, Technology Medals
November 17, 2010
Rochester Democrat & Chronicle
Local scientists to be honored at White House
November 16, 2010
Voice of America
Ten-Year Study of The World's Oceans Makes Thousands of Discoveries
November 08, 2010
WXXI
1370 Connection: Dr. Esther Conwell of the University of Rochester
November 01, 2010
Rochester Business Journal
Brain power
October 22, 2010
Rochester Democrat & Chronicle
Area researchers Esther M. Conwell, Steven J. Sasson to receive top science honors
October 16, 2010
England Guardian
Open letter: Climate change and the integrity of science
May 06, 2010
Rochester Democrat & Chronicle
Writer Abraham Rothberg reluctantly enjoys his tribute
January 16, 2010
Democrat and Chronicle
UR chemistry professor receives award
September 15, 2007
Biography
Prof. Conwell helped launch the computer revolution by explaining how electrons travel through semiconductors. Conwell and physicist Victor Weisskopf developed the Conwell-Weisskopf theory which described how "impurity ions" impede the flow of electrons. She is currently studying the movement of electrons through DNA. Conwell was awarded the National Medal of Science by President Obama in November 2010.