University Communications
Faculty Experts Directory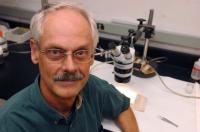 High-resolution image
(please include photo credit)
John Jaenike
Professor & Chair
Arts, Sciences, and Engineering

Department of Biology

Areas of expertise: Ecology and Evolution, endosymbionts of insects
Press contact:
Peter Iglinski
585.273.4726

Related Links:

In the News

MSNBC
Survival Tactic Evolves in Flies Using Bacteria, Not Genes
July 09, 2010
Discover Magazine
Friendly bacteria protect flies from sterilising worms | Not Exactly Rocket Science
July 09, 2010
Wired News
Parasite-Busting Bugs Throw Fruit Fly Evolution Into Overdrive
July 08, 2010
Discovery Channel
Female Monarch Butterflies Disappearing
September 23, 2009
MSNBC
Tropical butterfly hindered by extreme sex ratio
September 10, 2009
Nature
Killer of male moths is identified
February 26, 2008
Democrat and Chronicle
Three UR Scientists Honored by Colleagues
December 04, 2006
The Scientist
Itís Life Sciences, Mr. Bond
September 08, 2006
Biography
John Jaenike focuses on host-parasite interactions, X-chromosome meiotic drive, and the contribution of the parasite Wolbachia to reproductive isolation and sex-ratio bias in natural populations of Drosophila. Most of this research focuses on various species of mycophagous Drosophila.
Video Highlights