USA Today (October 16)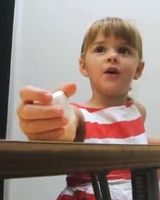 "Astounding" is the word that Richard Aslin, the William R. Kenan professor of brain and cognitive sciences at UR, uses to describe the results of the robust study that demonstrates that the ability to delay gratification is influenced as much by the environment as by innate ability. If the marshmallow task sounds familiar, it's because it is not a new concept. But the work of Aslin, lead author Celeste Kidd and co-author Holly Palmeri has entirely new implications. (Also Reported in: Washington Post, Time Magazine, CBS News, Science Daily, redOrbit, LiveScience.com, Boing Boing, Globe and Mail, Psychology Today, Inside Higher Education, Daily Mail, Slate, Bloomberg Businessweek, Popular Science, Examiner.com, U.S. News & World Report, LiveScience, Press & Sun-Bulletin, Ithaca Journal, WXXI, Rochester Democrat and Chronicle, and others)
New York Times (October 14)
This summer, physicists celebrated a triumph that many consider fundamental to our understanding of the physical world: the discovery, after a multibillion-dollar effort, of the Higgs boson.
Adam Frank is a professor of physics and astronomy at the University of Rochester and the author of "About Time: Cosmology and Culture at the Twilight of the Big Bang."
Huffington Post (October 5)
"We all know that children are efficient germ-spreading vectors," study researcher Dr. Ann Falsey, M.D., a professor of medicine at the University of Rochester, said in a statement. "And we know that young children oftentimes don't have ideal hygiene habits. It's not unusual for them to accidentally sneeze in your face, for instance. If you have a grandchild who is sick, it may simply be smart to plan a visit for another day. It may be that your chance of developing cold symptoms is related to the amount of virus you're exposed to, and if you're around small children, you're exposed to more virus. The idea makes sense, but it's speculation at this point."  (Also Reported in: Newsday, iVillage, HealthDay, MPNnow.com)
Washington Post (October 19)
Robert Novy-Marx is an assistant professor of finance at the University of Rochester's Simon Graduate School of Business. Joshua Rauh is a professor of finance at the Stanford Graduate School of Business and a senior fellow at the Hoover Institution.
How much will the underfunded pension benefits of government employees cost taxpayers? The answer is usually given in trillions of dollars, and the implications of such figures are difficult for most people to comprehend. These calculations also generally reflect only legacy liabilities – what would be owed if pensions were frozen today. Yet with each passing day, the problem grows as states fail to set aside sufficient funds to cover the benefits public employees are earning.