The Year in Pictures
University photographer J. Adam Fenster shares some of his favorite photos from around the University during the past year.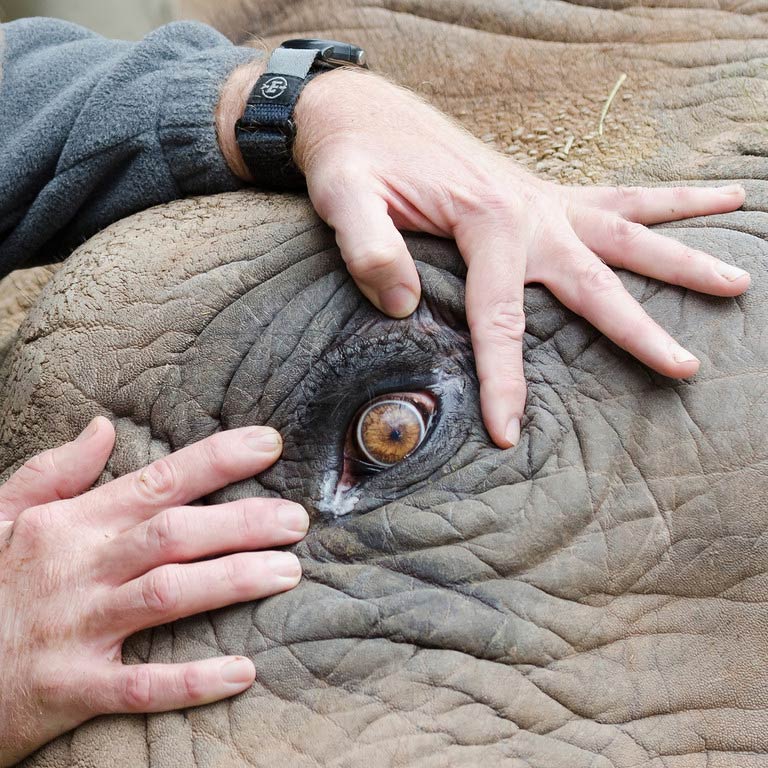 Eye of the Beholder: Jeff Wyatt, attending veterinarian for the University and for Seneca Park Zoo, examines 35-year-old African elephant Genny-C.
                                                
One of Fenster's favorite assignments this year was photographing at the zoo. "This photo is a crop of a larger original," he explains. By cropping in on the elephant's eye and the vet's hands, he creates a more captivating image.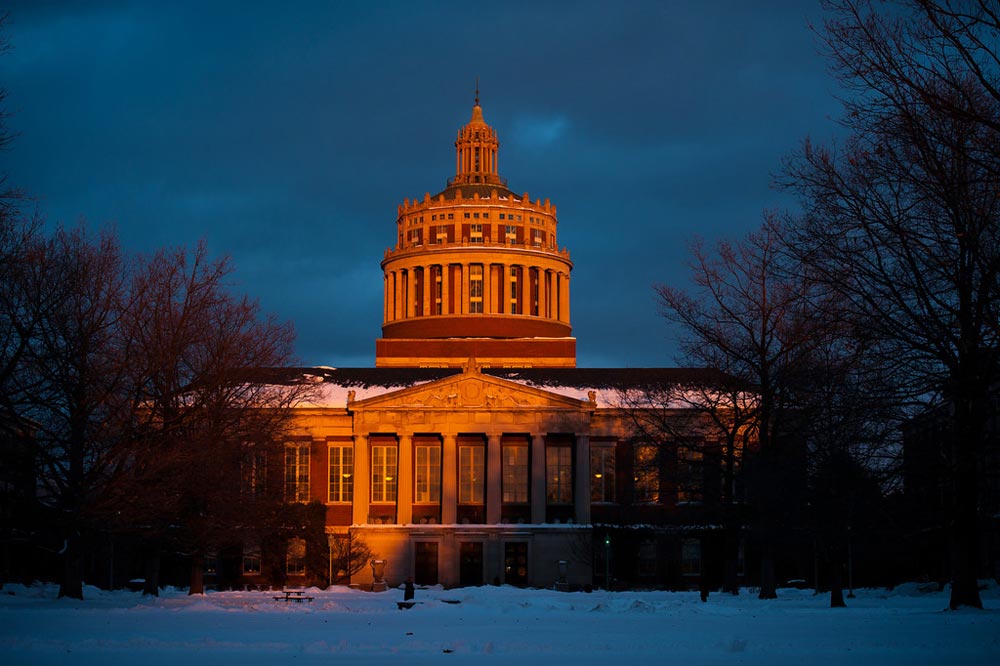 The Iconic Campus Shot: Rush Rhees Library is probably the most photographed building on the River Campus. Professional and amateur photographers capture stunning photos of the edifice all year round. Fenster notes that it's interesting to compare different versions of the same subject.
In this case, Fenster happened upon some "found light" from the setting January sun. "It was an overcast evening, with heavy clouds, but then there came this spear of sunlight. It created a dramatic effect and I just happened to be there to document it."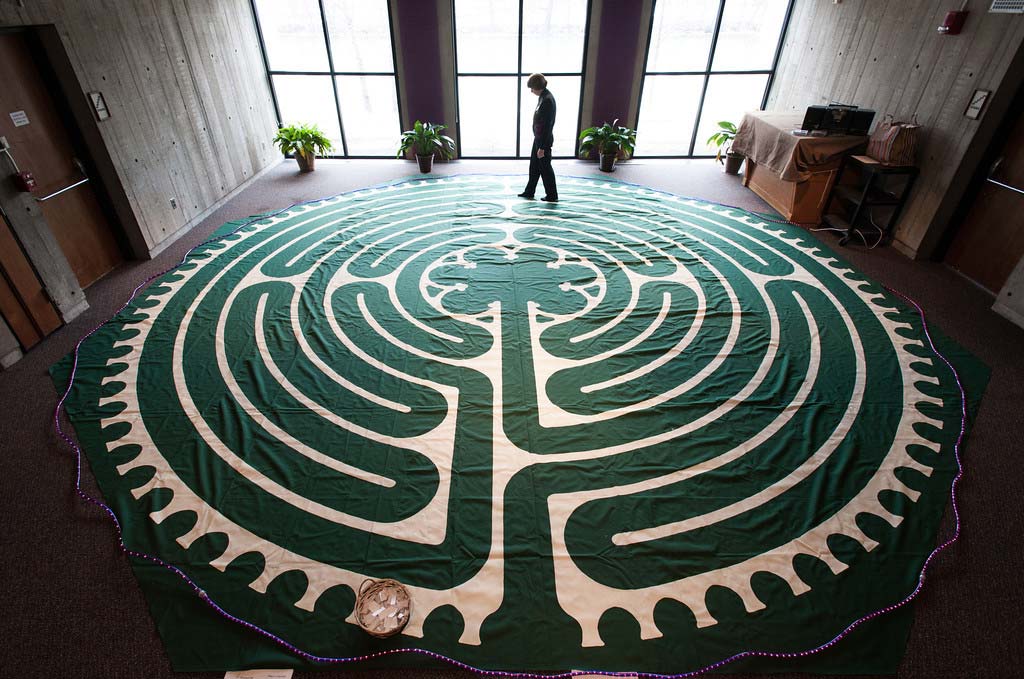 Walk This Way: Director of Religious and Spiritual Life Denise Yarbrough walks a labyrinth in the University's Interfaith Chapel.
For this picture, according to Fenster, "it was essential to photograph it from above and to make the most of the natural light."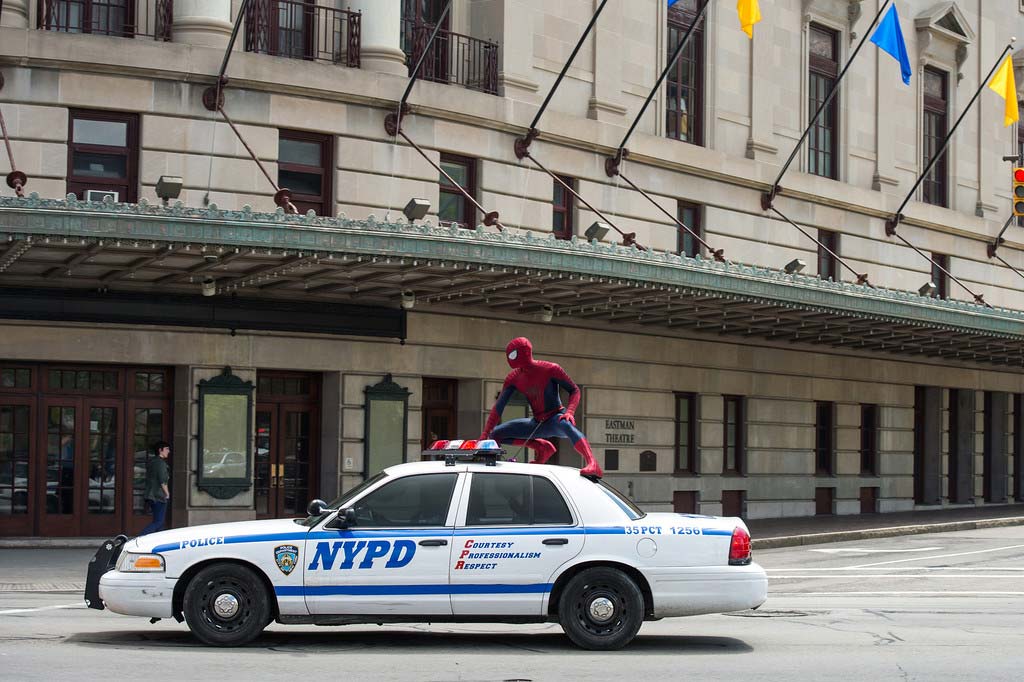 Spidey Sense: In May, stunt actors and movie crews shot scenes in front of Eastman Theatre for the upcoming movie The Amazing Spider-Man 2.
When Fenster learned that filming was occurring in downtown Rochester, he took the initiative to document the occasion. "It's Hollywood in Rochester—what a unique and important moment for both the city and the school. And this photograph puts Spiderman right next to the Eastman sign."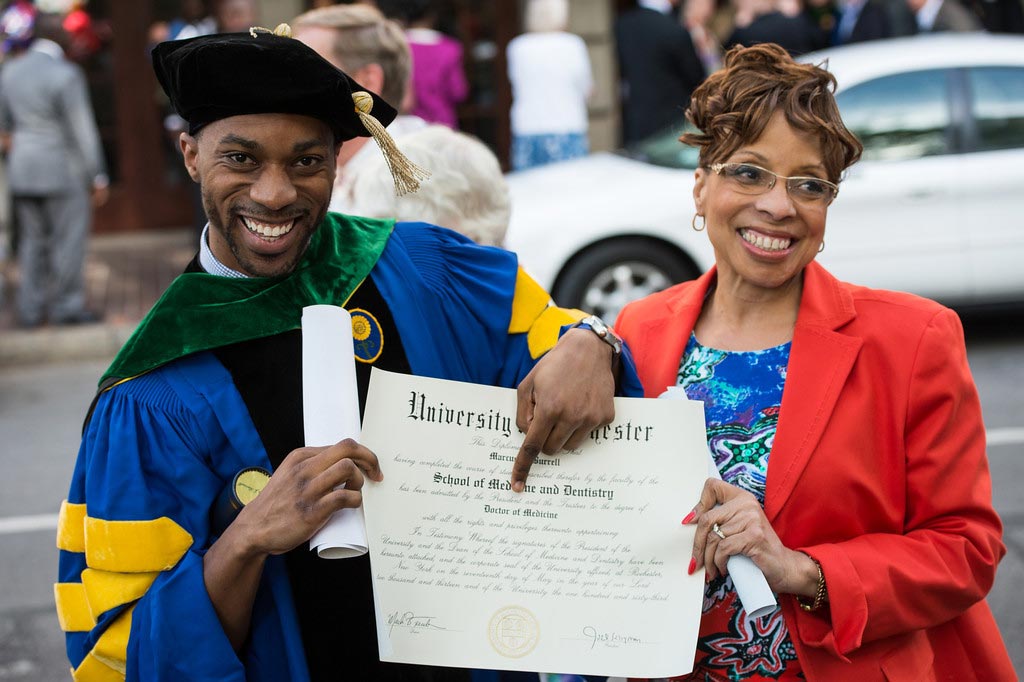 The Future Is Bright: Marcus Burrell, holding his diploma, celebrates with mother Beverly following the School of Medicine and Dentistry's commencement ceremony.
"The best photos are the ones that show emotion," says Fenster. "They're also the hardest to get. In the aftermath of commencement though, you see a lot of real emotions from the graduates and their families."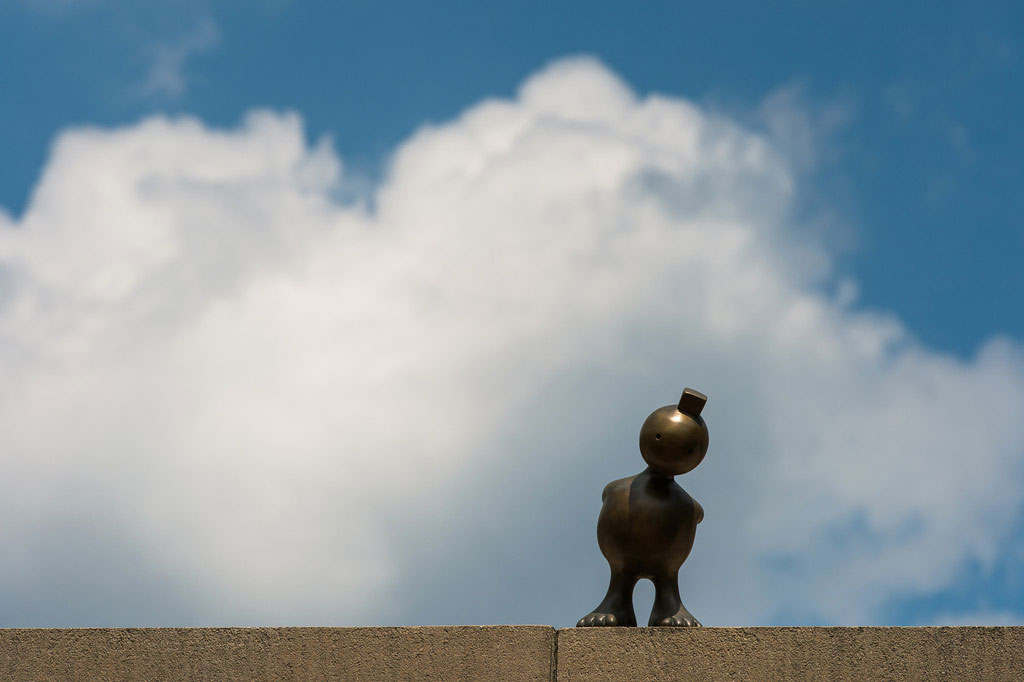 Statuesque: The photo depicts a figure from Tom Otterness's Creation Myth, which is perched above the Memorial Art Gallery entrance.
"More than anything, this picture demonstrates how the chance confluence of weather and light can help to create a striking image," Fenster says.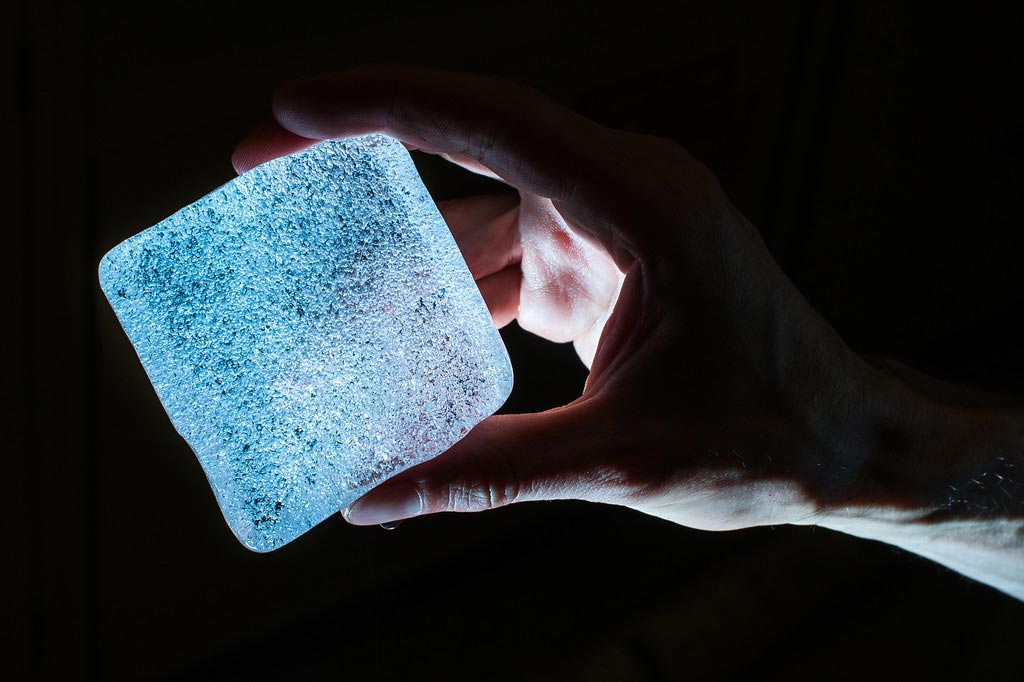 Ice Age: Vasilii Petrenko, assistant professor of earth and environmental sciences, holds a 50,000-year-old ice sample from a glacier in Antarctica.
"For this photo, I had in my mind what I wanted to capture," explains Fenster. "As the demonstration ice started melting, it took on the appearance of translucent glass. So I lit it from behind to create the image you see."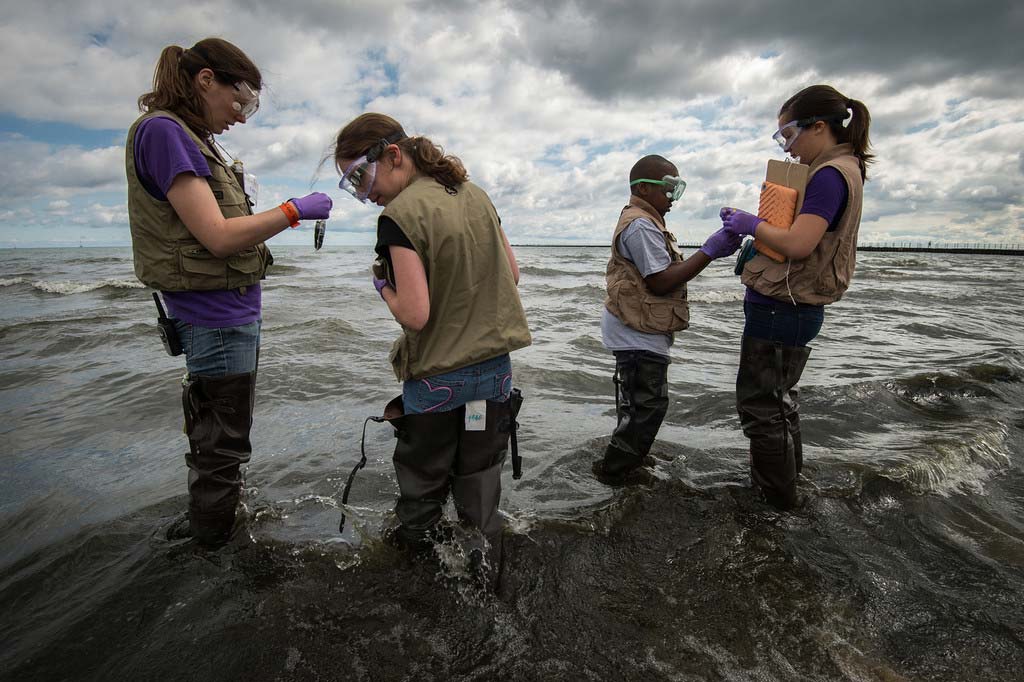 Lake Effect: Warner School students and Rochester city schoolchildren obtain water samples from Lake Ontario during the school's Get Real! Science summer camp in July.

"I'll take any excuse to get into the water," says Fenster, "and it's always great to document the outreach that our students do. In this case, the weather worked to our advantage. Because it wasn't too sunny, you're able to see more details in the subjects' faces."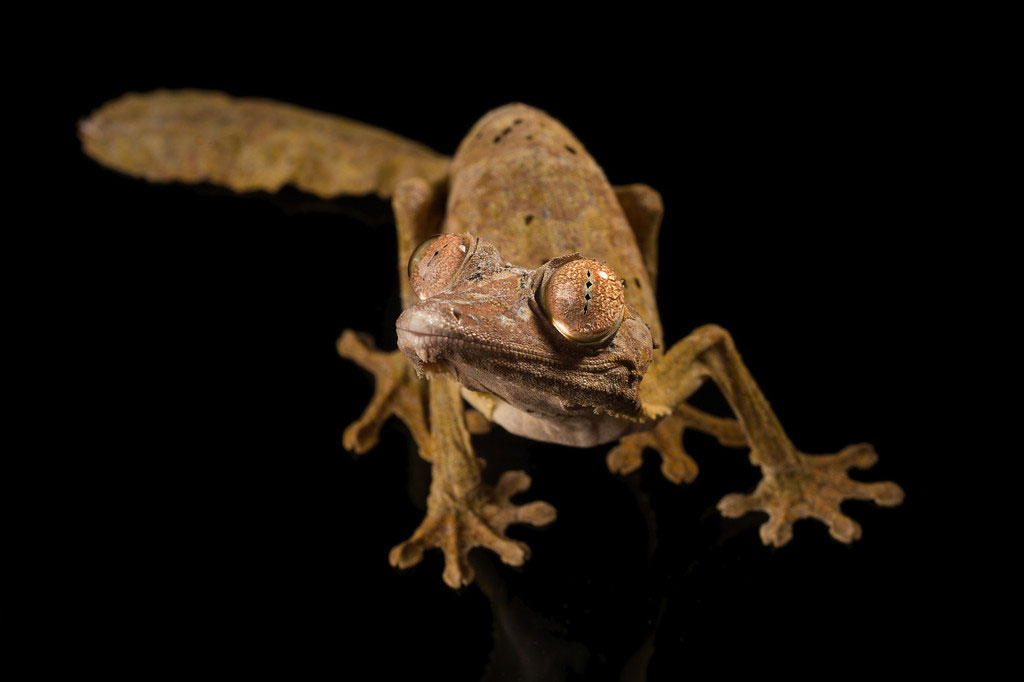 Where the Wild Things Are: Pictured is a male Henkel's leaf-tailed gecko (Uroplatus henkeli). Geckos are among some of the species studied by Daniel Scantlebury, a Rochester PhD student in biology.
According to Fenster, "This was one of my favorite assignments. We could have just used stock photography, but I love photographing critters and had some ideas for this shoot. After a lot of setup and testing, we managed to collect a great series of gecko images to help illustrate the research."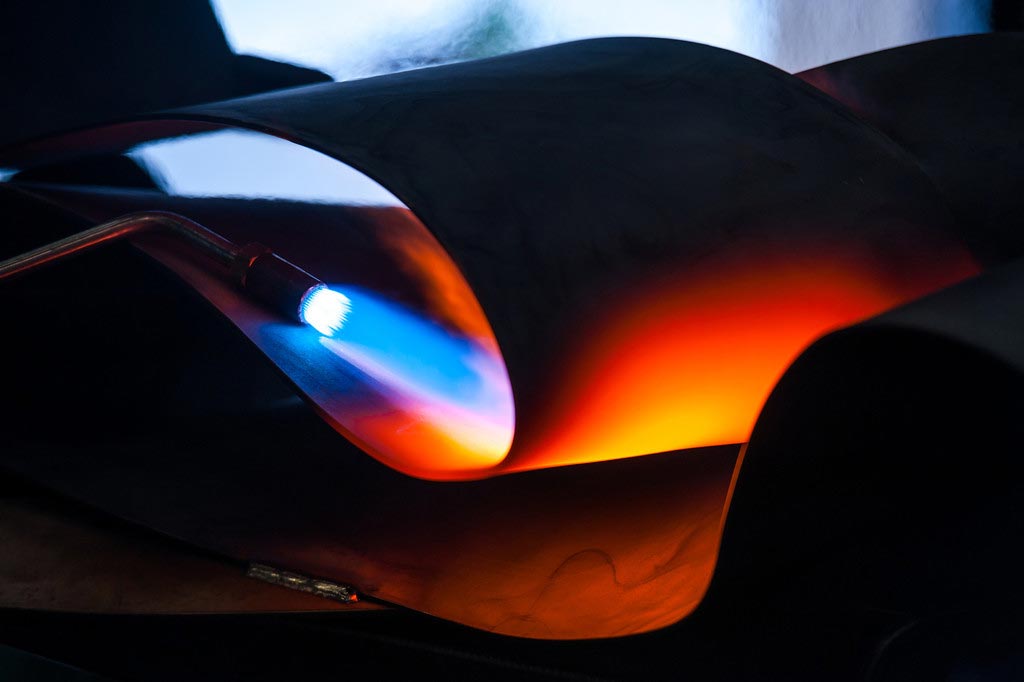 Heavy Metal: Rochester sculptor Albert Paley works on Soliloquy in his studio. The piece was later installed in the Memorial Art Gallery's Centennial Sculpture Park.
According to Fenster, "Sometimes detail shots are more interesting than wider ones. They give us a chance to show viewers a subject in a completely different way."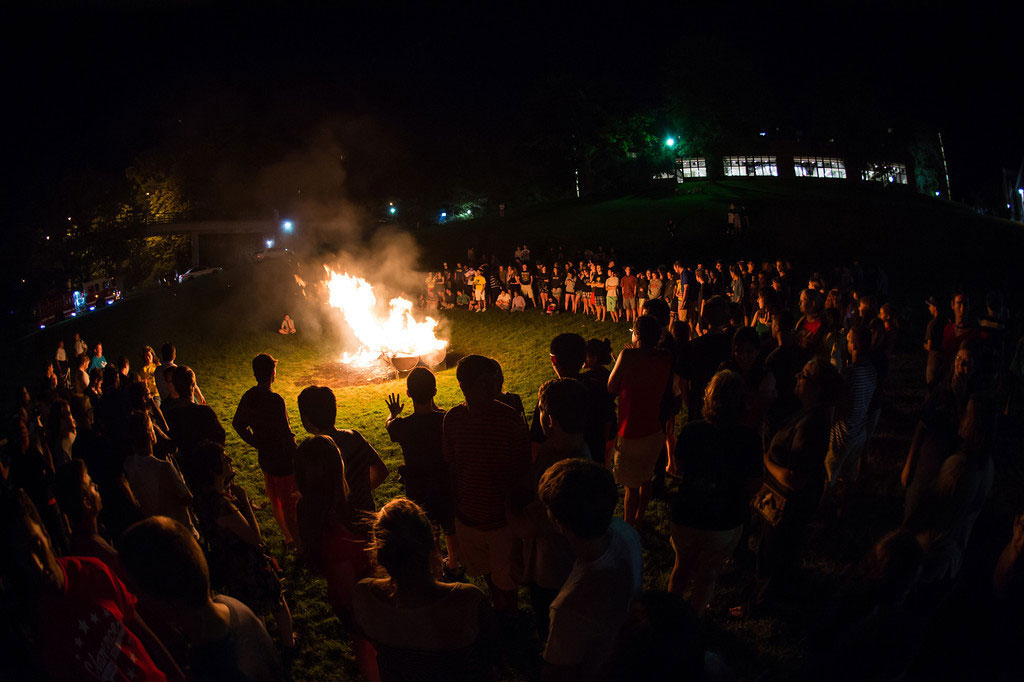 Fired Up: University students attend a bonfire behind Susan B. Anthony Halls during orientation.
Fenster's take? "This was the first bonfire on campus in about 15 years. Fire is always a fascinating subject for a photographer, both evocative and primal. I also enjoy capturing students in non-academic settings."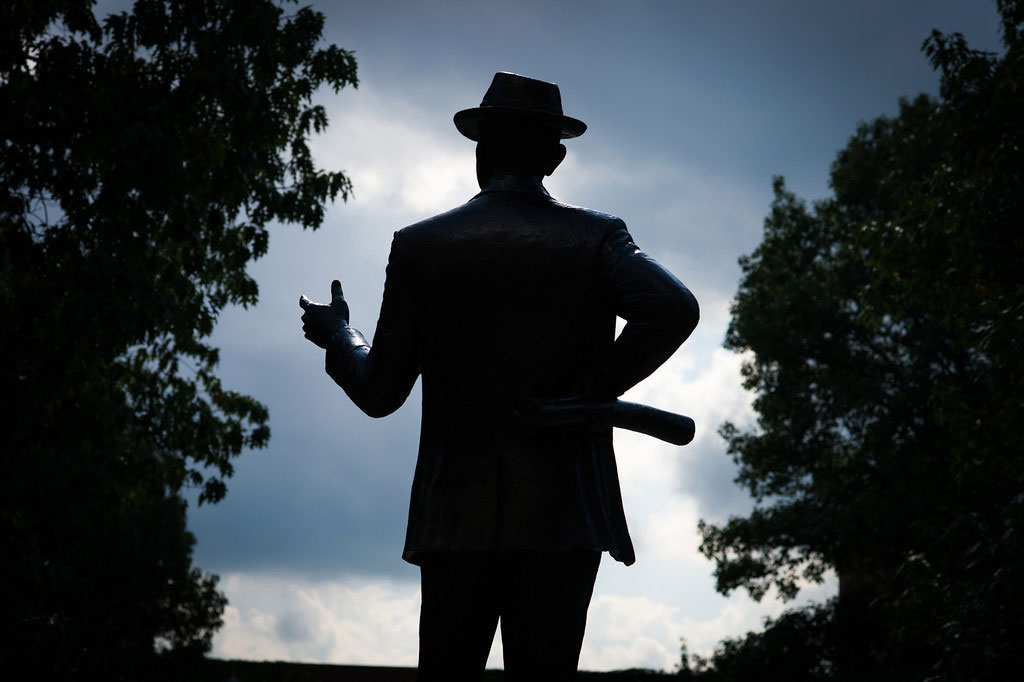 The Man, the Myth, the Legend: Pictured is the statue of University benefactor George Eastman overlooking the Eastman Quad.
"This is probably the second most photographed object on campus," says Fenster. "I had to do some dodging and weaving to get the statue's outline against the sky. By exposing for the dramatic clouds you get a nice, contrasting silhouette."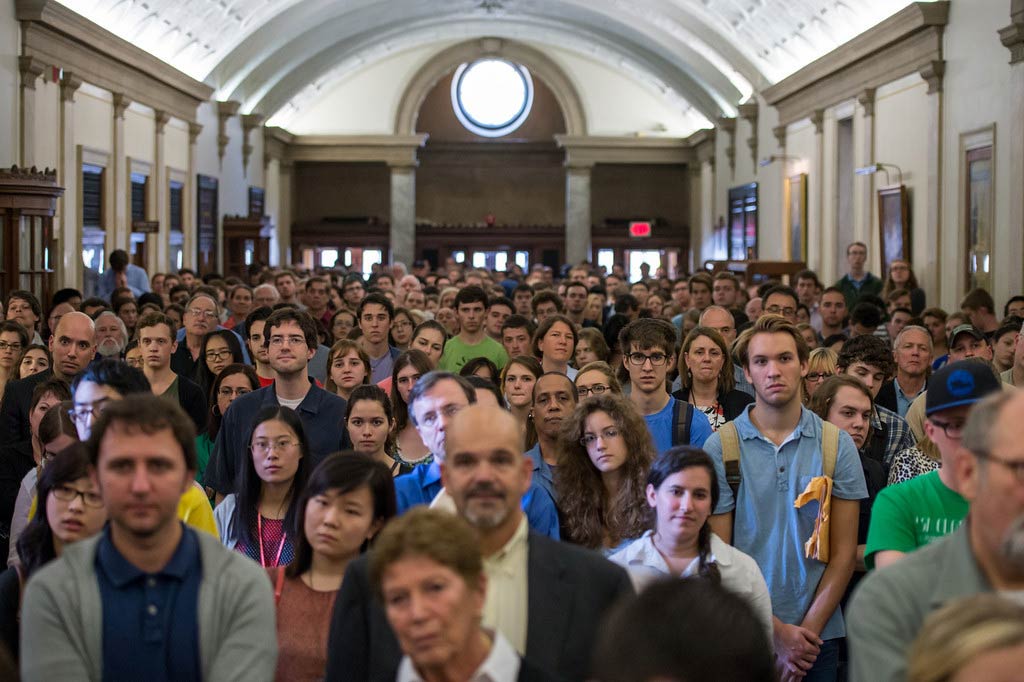 In Memoriam:  A remembrance gathering convened for Douglas Lowry, the former Eastman School dean, on the morning he died of cancer. The school's main hall was officially renamed Lowry Hall.
"An event like this is always hard to cover," explains Fenster. "How do you capture raw emotion in a way that's respectful and tells a story? Here I held the camera above my head and used a long lens to compress the scene, creating a narrow plane of focus on the faces of Douglas Lowry's mourners."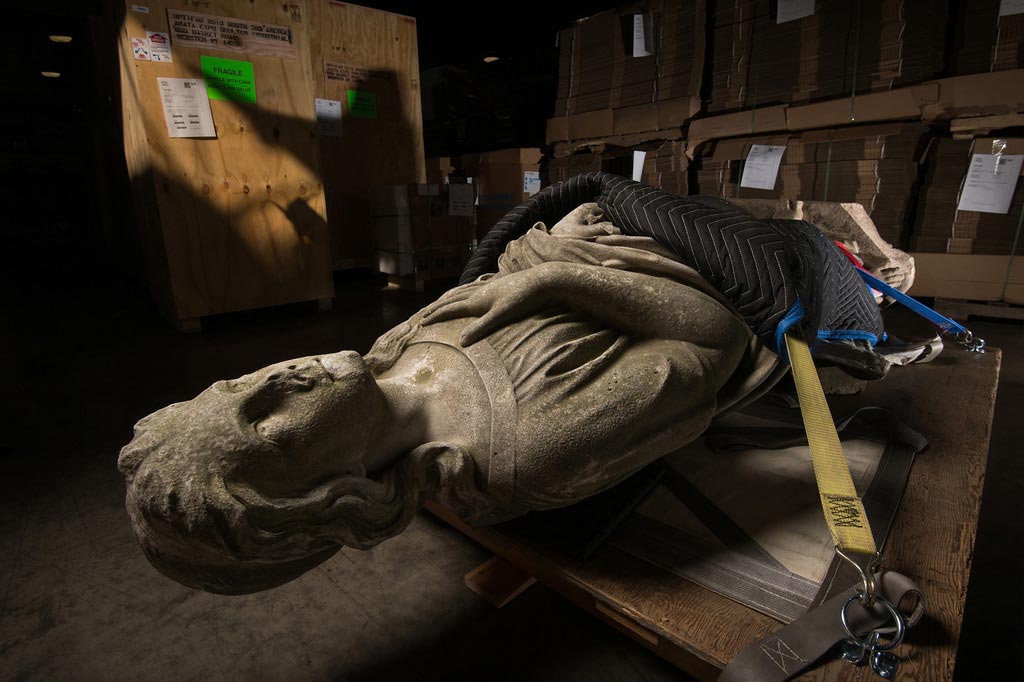 Bring Up the Bodies: After 23 years, Commerce, a long-lost statue, was reacquired from former English professor James Carley. It lies in storage awaiting its reunion with the four other statues near Rush Rhees Library.
"When I arrived at the storage company I had to get a guy on a forklift to move the statue to an area where I had enough room to light and photograph it properly," Fenster reports. "Then I spent a couple of hours positioning lights and changing camera angles to get something that worked. I enjoy using available light whenever possible, but sometimes you need to bring your own to augment or overpower what is already there in order to create a more dramatic photo."
The end result juxtaposes the statue's artistic details with the warehouse's ordinariness.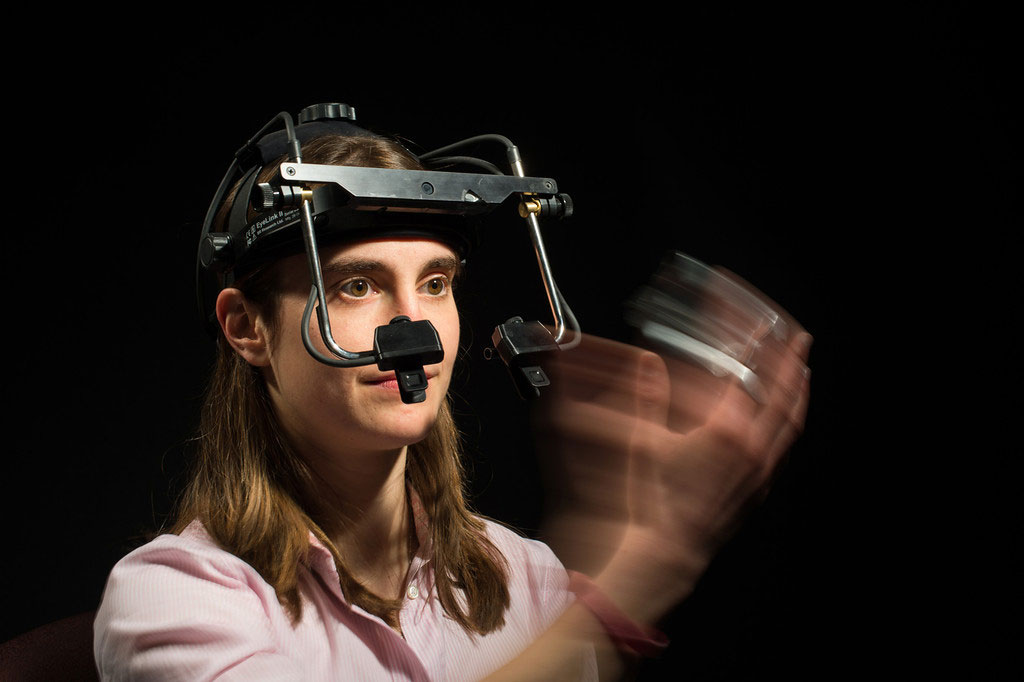 Eye Spy: Former study subject and Rochester graduate Lindsay Bronnenkant wears an eye-tracking device as she reenacts a study on synesthesia and "seeing" in the dark.
"I'm often called upon to help illustrate stories promoting the research at the University. In this case, the research was about motion, so I wanted the photo to show movement," Fenster explains. By slowing down the shutter speed, he was able to blur the hand to convey movement in a still photograph.
---
The Best of Photo Friday
Every Friday, the University homepage is taken over by photos submitted by Rochester students, alumni, faculty, and staff. And every week, visitors to the page select their favorite photos. Here are this year's favorites, as chosen by you.
Top 10 Stories of 2013
Based on web traffic to our news sites, we've compiled a list of this year's top stories. The range of subjects—local and national, pop culture and living history, viral videos and scientific discoveries—reflects the diversity of the University itself.
Here, briefly reviewed and with links to the original stories, is UR news in 2013.
(1) Motion Quotient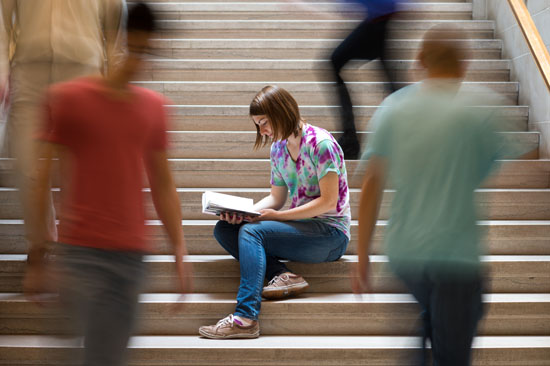 Using a visual test, a Rochester research team found an unexpected link between IQ and motion filtering. As a person's IQ increases, so does his or her ability to filter out distracting background motion.
The vision test—simple and non-verbal—could remove some of the limitations associated with standard IQ tests, which have been criticized for cultural bias. This would enable researchers to better understand neural processing in individuals with intellectual or developmental disabilities.
Read the story, view the data, and watch a video >>
---
(2) Cracking Suffrage History
It's Storage Wars for history buffs.
In June, the University's Susan B. Anthony Center for Women's Leadership joined the National Council of Women of the United States in New York City to open a "Woman Suffrage Party" safe. The safe had been linked to Susan B. Anthony, the feminist and civil rights leader.
To solve the mystery of its contents, the Anthony Center hired a professional safecracker. The safe included:
Tax documents dated 1931
A boxed Smithsonian replica of Susan B. Anthony's gavel, presented to her in 1888
A box with six mounted replicas of murals from the 1933 World's Fair in Chicago featuring historical women figures
A credit card that expired in 2002
Read about what else was in the safe, and see photos and a video of the safe being opened >>
---
(3) Men are from Mars Earth, Women are from Venus Earth
Contrary to popular belief, men and women aren't so different after all—at least not psychologically. Rochester researchers found that the dichotomy of the sexes falls apart under statistical scrutiny.
The vast majority of psychological traits defy sex- or gender-based categorization. For example, it is not unusual for men to be empathic and women to be good at math, characteristics that some research has associated with the other sex.
So no matter how strange and inscrutable your partner may seem, their gender is probably only a small part of the big picture.
Read more, view the data, and watch a video >>
---
(4) Researchers Optically Levitate a Glowing, Nanoscale Diamond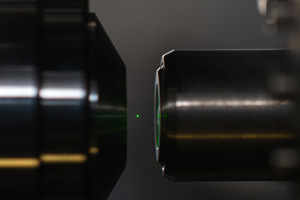 Diamonds are a physicist's best friend?
Maybe not, but by using a technique known as laser trapping, Rochester researchers caused nanodiamonds to levitate in space and emit light at given frequencies. This marked the first time that light emitted by photoluminescence from a nanodiamond levitating in free space was measured.
Using lasers to trap ions, atoms, and (more recently) larger particles is a well-established field of physics. Nanodiamonds, however, had never been levitated. With these new findings, the researchers can start considering systems with possible applications in the field of quantum computing.
Read the story, see photos, and watch the video >>
---
(5) Legacy of Slavery Still Fuels Anti-Black Attitudes in the Deep South
Slavery was abolished more than 150 years ago, but its political legacy endures and continues to influence views in the 21st century.
A team of political scientists at the University of Rochester found that white Southerners who currently live in the Cotton Belt—where slavery and the plantation economy dominated—are much more likely to express more negative attitudes toward blacks than fellow Southerners who live in nearby areas that had few slaves.
This new data underscores the importance of considering institutional and historical legacy, as well as contemporary influences (such as education, income, or degree of urbanity), when understanding political views.
Read the story and view the data >>
---
(6) Father-Son Team Demonstrates Simple Optical Cloaking of Large Objects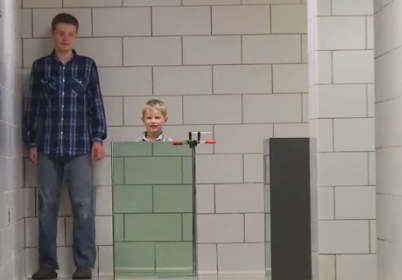 From Harry Potter to military stealth technology, cloaking is a common topic in popular culture and in the scientific community.
To cloak an object is to hide it from view at specific frequencies. Different types of cloaking have been demonstrated in labs around the world.
At the University of Rochester, a professor of physics—with the help of his son—built three simple, yet surprisingly effective optical cloaking devices with inexpensive, off-the-shelf materials.
Read the story and watch the video >>
---
(7) First Group of College Town Tenants Unveiled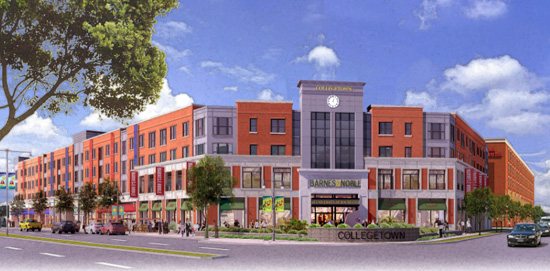 Not surprisingly, the Rochester community is interested in the building of College Town. The plan is to redevelop 14 acres of University-owned property with new retail and dining space, hotel and conference facilities, parking and housing.
The first tenants of College Town were announced in November. In addition to Barnes & Noble Booksellers and Hilton Garden Inn, they include Corner Bakery Café, Moe's Southwest Grill, Flight Wine Bar, and more.
College Town is slated to open in fall 2014.
Learn more and see a rendering >>
---
(8) Biologists Identify the Chemical Behind Cancer Resistance in Naked Mole Rats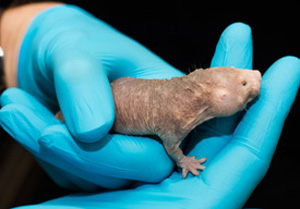 Cancer research often focuses on animals that are prone to cancer. But at the University of Rochester, researchers believe there is also much to learn by studying animals that are cancer-proof.
Case in point: the naked mole rat.
Naked mole rats are small, hairless, subterranean rodents that have never been known to get cancer, despite having a 30-year lifespan. A Rochester research group discovered that these rodents are protected from cancer because their tissues are rich with high molecular weight hyaluronan.
The findings represent an important step in treating and preventing cancer.
---
(9) How to Prank a Freshman Chemistry Class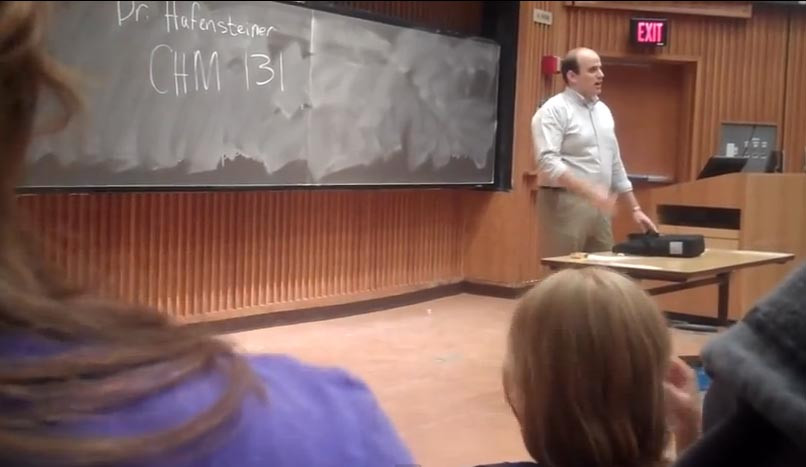 There's nothing like getting pranked and then having it go viral. The students in one of Rochester's chemistry classes know this all too well.
On the first day of the semester, a Rochester upperclassman pretended to be Chemistry 131's Professor Hafensteiner. The "professor" proceeded to give his new pupils quite the lecture, warning that most of them would likely fail the course and that using laptops and cell phones in class would have "severe repercussions" on their grades.
The real "Doctor H" appeared in time to reassure the first-year students that the hoax was just that. Within hours of posting the video of the prank on YouTube, it had received nearly 500,000 hits.
Read more and watch the video >>
---
(10) The Amazing Spider-Man Films in Rochester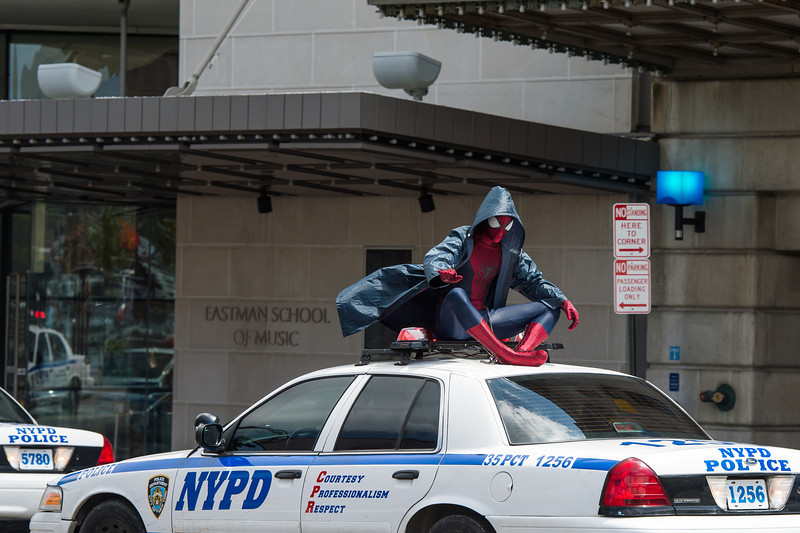 This past spring, downtown Rochester—including the area around the Eastman Theatre—served as the backdrop for chase scenes being filmed for The Amazing Spider-Man 2. University photographer J. Adam Fenster (and paparazzo for the day) captured images from the last day of filming.