Robert Clark has been named senior vice president for research at the University of Rochester, and has been appointed to a second, five-year term as dean of the Hajim School of Engineering and Applied Sciences. University President Joel Seligman made this announcement at a special March 5 event in Munnerlyn Atrium, Goergen Hall for Biomedical and Engineering. Both five-year appointments have been approved by the Board of Trustees and are effective April 1.
Clark was selected as senior vice president for research—a position he has most recently served in an interim role—following a national search.
"Rob's service as dean and interim senior vice president for research has been exemplary, and I am delighted to appoint him to both roles," said Seligman. "He is an academic leader of extraordinary energy and focus, with the ability to listen and work well with a variety of constituencies. I was deeply impressed by the overwhelming support he received to be reappointed as Hajim School dean, and the strong endorsement of his abilities to dually manage the trajectory of our interdisciplinary research excellence. Few other academic leaders could wear both hats."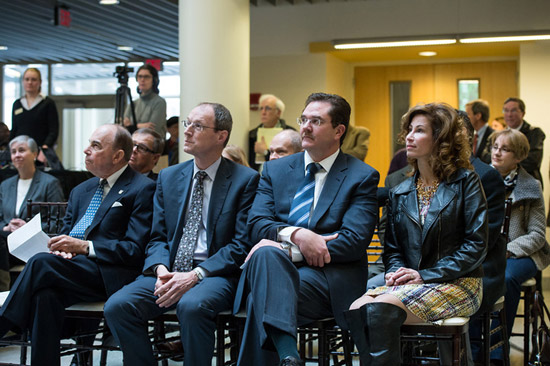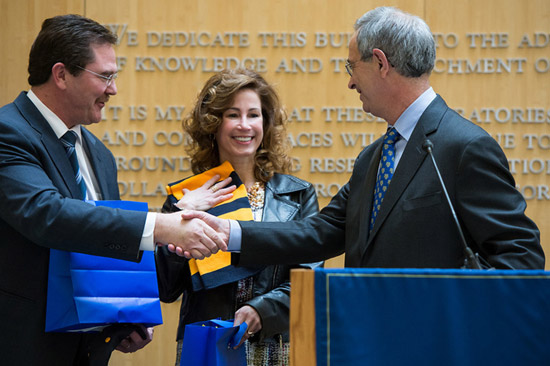 "I know I speak for the entire board in expressing my enthusiasm that Rob will serve the University in these two critical roles," said Ed Hajim, chairman of the University's Board of Trustees and a 1958 engineering graduate of the University. "Rob is a thoughtful strategist and proven leader with the impressive credentials that make him supremely qualified for these positions at the University. And as a member of the business community, I see Rob as a great ambassador to this very important area of our economy."
In summer 2012, the University Board of Trustees approved a restructuring of the Provost's position recommended by President Seligman and announced the new senior vice president for research position, charged with shaping the initiatives and infrastructure of the University's rapidly growing research enterprise. The position manages the University's online academic initiatives, the research component of information technology, and oversees the Laboratory for Laser Energetics, the Sponsored University Research Group, Office of Research Projects Administration, Center for Entrepreneurship, Office of Research Alliances, Office of Human Subjects Protection/Research Subjects Review Board, the Office of Technology Transfer, and the University's Health Sciences Center for Computational Innovation (HSCCI).
Clark was named as the first interim senior vice president for research in June, and has since orchestrated a comprehensive review of information technology, supervised efforts to pilot online programs, and helped secure $5 million of support for the HSCCI through the Finger Lakes Regional Economic Development Council.
The national search for the senior vice president for research began in October and involved a significant number of external and internal candidates. Clark was selected from among four finalists that were interviewed by a search committee, as well as 25 University senior and academic leaders and Board of Trustee Advisory Committee members.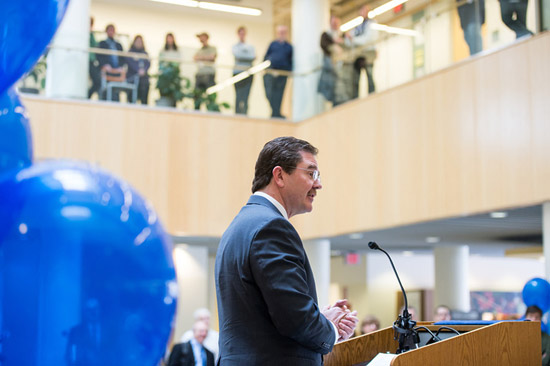 As Hajim School dean since 2008, Clark has grown and strengthened the faculty, introduced cross-disciplinary master's programs—including the MS in technical entrepreneurship management in collaboration with the Simon School of Business—and significantly increased the undergraduate enrollment in engineering. He also successfully led Hajim's ABET accreditation efforts, and has provided key leadership in the school's 2016 fundraising campaign goal.
"Rob has been a prodigiously talented dean of the Hajim School, and we are fortunate to have him at the helm for another five years," said Provost and Dean of the Faculty Peter Lennie. "I look forward to continued close collaboration with Rob as a he takes on his new responsibilities for research. His energy and breadth of vision will be immensely important at a time when university research is facing great challenges."
Clark joined the University in 2008 from Duke University, after serving as senior associate dean and dean of the Pratt School of Engineering. His expertise in the science of acoustics and in bionanomanufacturing has led to 130 journal publications and earned him awards including the Lindsey Award of the Acoustical Society of America, the National Science Foundation Career Program Award, the Presidential Early Career Award for Scientists and Engineers, and the NASA Group Achievement Award. He is a fellow of the American Association for the Advancement of Science, Acoustical Society of America, and the American Society of Mechanical Engineers. He holds bachelor's, master's, and doctoral degrees from Virginia Polytechnic Institute.