Bob Marcotte
Bob Marcotte's Latest Posts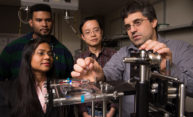 Rochester researchers have been using lasers to change the properties of metals in incredible ways. But to make the technology commercially viable, a partnership between scholars and business will focus on making the lasers much more powerful.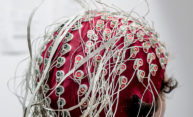 Researchers in Edmund Lalor's biomedical engineering lab have identified a brain signal that indicates whether a person is comprehending what others are saying – and have shown they can track the signal using relatively inexpensive EEG readings taken on a person's scalp.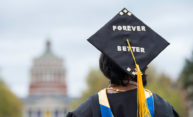 By the time they graduate from the University of Rochester, students will have take 128 credits and only one required course. "More than 90 percent of incoming students surveyed last year indicated that Rochester's unique curriculum had a positive to strongly positive effect on their decision to enroll," says Executive Director of College Enrollment Scott Clyde.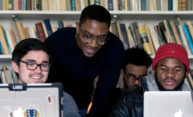 Urban studies, neuroeconomics and international relations, and digital communications: these are just some of the interdisciplinary majors students have crafted by availing themselves to the independent nature of the Rochester Curriculum.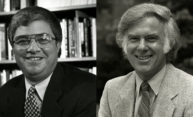 Twenty-five years ago, the chairs of the religion and physics departments united in a common goal: To rid the undergraduate curriculum of mandatory courses students didn't want to take, and give students the freedom to delve more deeply into the subjects they loved.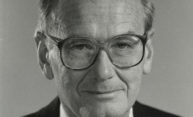 Teegarden joined the Institute of Optics in 1954 and served as its director from 1981 until 1987. He was also the first director of the University's Materials Science program, and led the New York State Center for Advanced Optical Technology.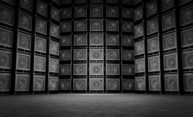 Using recital halls as their "labs," and recording some of the best music students in the world, University researchers are creating virtual reality videos of concerts that literally immerse viewers "within" the performance onstage.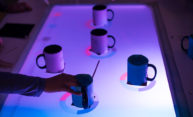 Coffee mugs and popsicle sticks are transformed into chemical reactors as part of an innovative teaching experiment that allows student engineers to simulate reactions in a real-life, sprawling chemical plant.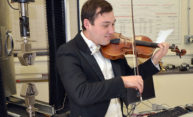 Thanks to the Dual Degree Program with the University's Eastman School of Music, Ivan Suminski '18, '18E finds himself in an enviable dilemma. Should he apply to graduate school to continue his violin studies? Or to research the biophysics of the inner ear?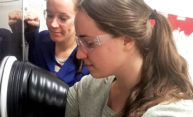 University of Rochester chemists are working on changes to existing batteries to provide clean energy when the sun isn't shining and the wind doesn't blow.