Brandon Vick
Brandon Vick's Latest Posts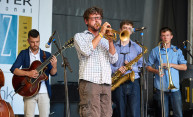 Alumni recipients of the ESM-XRIJF Scholarships perform on the Jazz Street stage downtown during the 14th annual Xerox Rochester International Jazz Festival,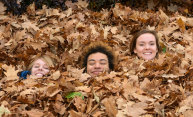 Sophomores Claire Kaiser, biomedical engineering, Ibrahim Akbar, electrical and computer engineering, and Marina May, biomedical engineering, are buried in leaves instead of work on Eastman Quad.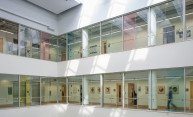 Sun shines through the skylights of the Robert B. Goergen Hall for Biomedical Engineering and Optics.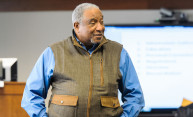 Dr. Bernard "Doc" Lafayette Jr. leads a Kingian nonviolence training session with teens from the Rochester region on Tuesday. Attendees practiced leadership and problem-solving skills and learned to fight racism, as a part of the M.K. Gandhi Institute's Season for Nonviolence. Co-sponsored by the Office of Admissions, youth also toured campus and connected with admissions counselors.