dwendt
dwendt's Latest Posts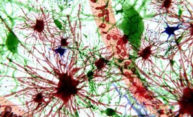 The brain's waste removal system serves as both trash collector and delivery service, providing neurons with a protein important to maintaining cognitive function while simultaneously cleaning brain tissue.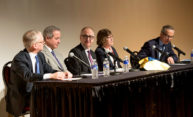 David Skorton, the 13th Secretary of the Smithsonian Institution and the former president of Cornell, visited the University on March 3 for a keynote address and panel discussion about the humanities, arts, and the future of the city, sponsored by the Humanities Center. Other participants in the event at the Memorial Art Gallery included (left to right) Bruce Barnes, director of the George Eastman House; Jamal Rossi, the Joan and Martin Messinger Dean of the Eastman School of Music; Skorton; Kate Bennett, president of the Rochester Museum and Science Center; and moderator Mark Cuddy, artistic director of the GeVa Theatre Center. Skorton, a board-certified cardiologist, received an honorary degree from President Joel Seligman before his speech about the centrality of the arts and humanities, which he said play a "key and increasingly important role in overcoming society's obstacles."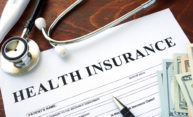 Gerald Wedig from Simon Business School reviews the link between health insurance premiums and the continuing migration of consumers to high deductible healthcare plans.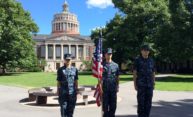 NROTC midshipmen stand vigil on Eastman Quadrangle to mark the 15th anniversary of the attacks of September 11. The University of Rochester lost six alumni that day: Jeremy Glick '93, Jean Hoadley Peterson '69N, Jeffrey Smith '87, '88S (MBA), Zhe (Zack) Zeng '95, '98S (MBA), Aram Iskenderian '82, and Brendan Dolan '86. (University photo / Dawn Wendt)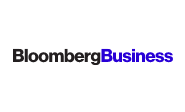 Video: Narayana Kocherlakota, a University of Rochester economics professor and a Bloomberg View columnist, discusses Fed monetary policy with Bloomberg's Alix Steel, Tracy Alloway and Scarlet Fu on "What'd You Miss?"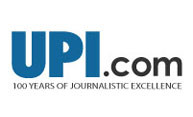 The acids, found in salmon, helped clear inflammation tied to infection, while not reducing the immune systems and may have also helped clear the infection itself, University of Rochester researchers report in The Journal of Immunology.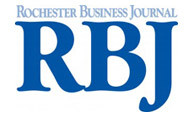 President Joel Seligman has been approved as the inaugural holder of the position, university officials announced Monday. The $2 million is a commitment from alumnus Robert Witmer, chairman emeritus of the University of Rochester Board of Trustees and his wife, Nancy.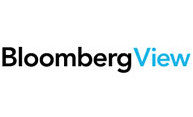 For more than 20 years, China has kept the yuan's value against the dollar in a very tight range. This connection between the yuan and the dollar has important implications for the impact of U.S. monetary policy on China.