Jim Mandelaro
Jim Mandelaro's Latest Posts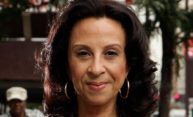 Four-time Emmy Award-winner and pioneer of Latino broadcasting Maria Hinojosa says "it's pretty surreal" to be delivering the University's MLK Commemorative Address this week. She calls Martin Luther King Jr., her "first American hero, the first person who made me believe I had a voice in this country."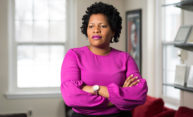 In this essay, Sasha Eloi-Evans '05, '17 (W), the academic programming coordinator for the Office of Minority Student Affairs and a lecturer in the Department of Linguistics, reflects on diversity in higher education in the nearly 50 years since Martin Luther King Jr.'s death.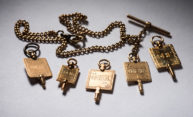 Phi Beta Kappa, the nation's oldest and most prestigious honor society for liberal arts and sciences, celebrates its birthday this month, and we honor the 17 students who were elected last spring as juniors.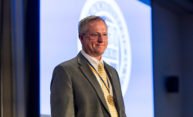 During Monday's ceremony, Runner discussed his path from college dropout to dean, and his desire to make the University a place of inclusiveness for all.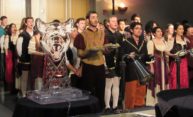 Feldman Ballroom in Douglass Commons was transformed into a 16th century English court for the annual Boar's Head Dinner, a University tradition since 1934. The banquet was inspired by a 16th-century Oxford University legend in which a student walking through the woods was attacked by a wild boar and saved by a fellow scholar who thrust a copy of Aristotle's work down the boar's throat.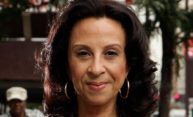 The four-time Emmy winner and host of National Public Radio's Latino USA and PBS's America By The Numbers will deliver the University's 2018 Martin Luther King Jr. Commemorative Address on Friday, January 19.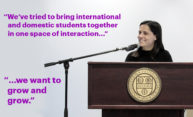 Language Center director Teresa Valdez speaks at an event Tuesday celebrating the center's one-year anniversary. Located in Douglass Commons, the center's mission is to raise intercultural awareness and promote the 18 languages offered on the River Campus. Valdez says enrollment in foreign language classes has increased 22 percent since the center opened last fall.(University of Rochester photo / Jordan Mangefrida)
University and Simon Business school teams will compete this Saturday for a place in the Hult Prize competition, the largest social entrepreneurship competition in the world.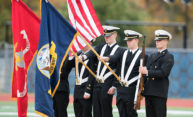 Created in 2013, the group is open to all students, faculty, staff, and alumni who are active duty military or veterans, and provides events and resources throughout the year. This Veterans Day weekend, the group will host the annual Military Appreciation Football Game.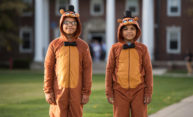 The University's fraternity and sorority communities hosted elementary school students from the Rochester City School District for the seventh annual Greek or Treat event last Friday. About 140 kids visited the River Campus to take part in Halloween-themed events ranging from a doughnut-on-a-string contest to a haunted house and obstacle course.