Jim Mandelaro
Jim Mandelaro's Latest Posts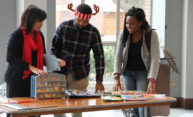 From Thanksgiving through the December holidays, faculty, staff, and students have been giving back to the greater Rochester community, and many are collecting donations in the next couple of weeks.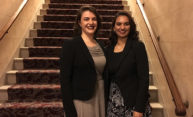 Daniela Camilleri '17 is a voice performance major and Samantha Andrew '17 is pursuing dual degrees in violin performance at Eastman and molecular genetics on the River Campus.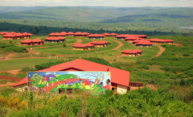 Ian Manzi '18 is organizing an online registry to purchase 77 books written in English for the Family Library at Agahozo-Shalom Youth Village, in an effort to educate high schoolers in his native country.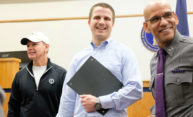 Dan Bronson' 18, starting quarterback for the Yellowjackets, chased and captured a man who had robbed an elderly woman outside a Lockport, NY restaurant.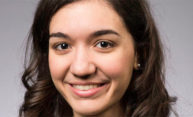 Angela Remus, a Des Plaines, Illinois, native, is interviewing to be among the 32 American candidates chosen for the international postgraduate award.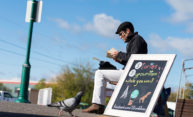 As a PhD candidate in biophysics, Karl Smith studies glass filters 10,000 times thinner than a human hair. But his "hidden passion" is crafting stories on demand on his 1926 Underwood typewriter for 10 cents each.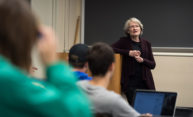 As a freshman, Skylar Cerbone '20 normally wouldn't take Lynda Powell's intermediate course, American Elections, this fall. But Cerbone didn't want to wait. "It's a presidential election year," the political science major says. "I had to take this class now. It's too important not to."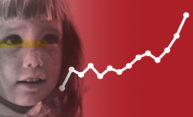 "Negative campaigning has been around as long as campaigning," says Simon Business School professor Mitchell Lovett. "It stays around because it works."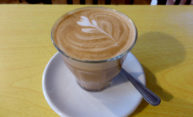 A new lecture and community conversation series, to be held at Brue Coffee on Genesee Street, aims to bring students and the community together for topical conversation.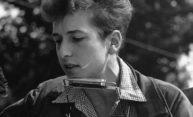 His first album was a flop. He was loved in the United Kingdom before the United States. As people around the world start to celebrate Bob Dylan's 75th birthday, rock historian John Covach, director of Rochester's Institute for Popular Music, identifies six stops along the artist's turbulent rise to the top in the 1960s.