packer
packer's Latest Posts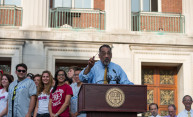 Vice President and University Dean Paul Burgett leads the incoming freshman class in their first singing of the alma mater — with the help of the University's a cappella ensembles — at the annual Convocation ceremony.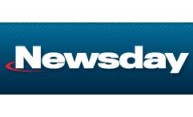 Kidney injury can be added to the list of possible harms related to use of three antipsychotic medications often prescribed to treat symptoms of dementia, a new study finds. "The side effect profile with antipsychotics is particularly concerning, so there is ample evidence to worry about their use in older adults unless they're absolutely necessary," said Dr. Anton Porsteinsson, director of Alzheimer's disease care, research and education.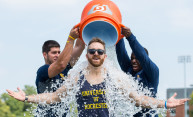 Assistant track coach Jay Petsch is doused by football players Jordan Golinowski '15, left and Farid Adenuga '16. Fifteen members of the Athletic Department took part in the Ice Bucket Challenge on Aug. 19, and supported research into ALS, or Lou Gehrig's disease.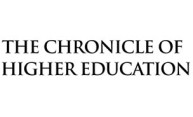 The research institutions on this list whose Fulbright applicants had the highest rates of success were the University of California at San Diego, the University of Rochester, and Arizona State University.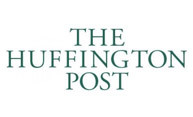 "It's a great breakthrough in terms of being able to monitor quantum systems," Andrew Jordan, a physicist at the University of Rochester, who worked on the original theory, told Live Science. "We're just scratching the surface of the kinds of physics permitted here."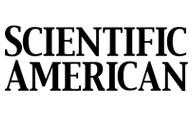 Quantum mechanics imposes a limit on what we can know about subatomic particles. If physicists measure a particle's position, they cannot also measure its momentum, so the theory goes. But a new experiment has managed to circumvent this rule—the so-called uncertainty principle—by ascertaining just a little bit about a particle's position, thus retaining the ability to measure its momentum, too.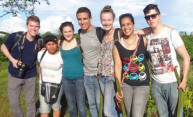 "This internship has been the most enriching, most difficult, most thought-provoking, and heartbreaking experience," said Humma Sheikh '15, rising senior, a neuroscience major.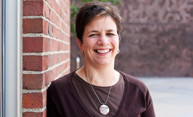 Warner School of Education professor Mary Jane Curry has co-edited a collection of studies and projects from researchers and professionals, offering new perspectives on how language and literacy can help facilitate and innovate various aspects of science, technology, and math education.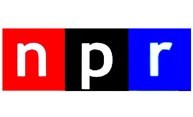 Hill and his colleague Nicholas Turiano of the University of Rochester Medical Center looked to see how more than 6,000 people answered questions like "Some people wander aimlessly through life, but I am not one of them," and other questions that gauged positive and negative emotions.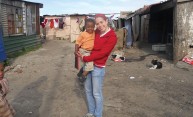 Two Rochester undergraduates are building connections with the people of Egoli, a squatter community on the outskirts of Cape Town, South Africa.