packer
packer's Latest Posts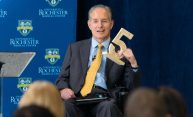 Bradford C. Berk holds up a number five, given as a gift from his assistant to mark five years since suffering a spinal cord injury in a cycling accident. Today, Berk announced that he will be stepping down as senior vice president for Health Sciences and CEO of the Medical Center on Jan. 1, 2015, and will launch a new Rochester Neurorestorative Institute to conduct research and provide patient care for people who, like himself, have lost neurological function through disease or injury. "The last five years have given me the perspective, the insight, and the passion to know where I am most needed, and where I can make the biggest difference," said Berk. He will be succeeded as CEO by Mark B. Taubman, who will also remain dean of the School of Medicine and Dentistry.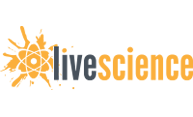 The huge multidimensional systems have complicated wave functions that the old method is not efficient enough to measure, Mohammad Mirhosseini, a graduate student at the University of Rochester and lead author on the paper describing the new technique, told Live Science. The new method makes it possible to calculate wave functions much faster and could help scientists further develop quantum technology.
An international team of researchers– co-lead by researchers in the School of Medicine and Dentistry – has identified a new inherited neuromuscular disorder. The new disease was diagnosed in two families, one in the U.S. and the other in Great Britain.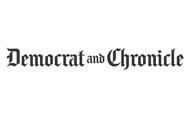 THUMBS UP For the approximately 1,450 University of Rochester students who took part in this year's Wilson Day community service projects.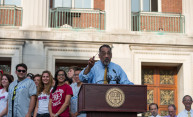 Vice President and University Dean Paul Burgett leads the incoming freshman class in their first singing of the alma mater — with the help of the University's a cappella ensembles — at the annual Convocation ceremony.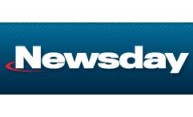 Kidney injury can be added to the list of possible harms related to use of three antipsychotic medications often prescribed to treat symptoms of dementia, a new study finds. "The side effect profile with antipsychotics is particularly concerning, so there is ample evidence to worry about their use in older adults unless they're absolutely necessary," said Dr. Anton Porsteinsson, director of Alzheimer's disease care, research and education.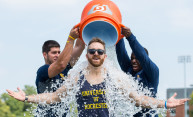 Assistant track coach Jay Petsch is doused by football players Jordan Golinowski '15, left and Farid Adenuga '16. Fifteen members of the Athletic Department took part in the Ice Bucket Challenge on Aug. 19, and supported research into ALS, or Lou Gehrig's disease.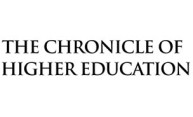 The research institutions on this list whose Fulbright applicants had the highest rates of success were the University of California at San Diego, the University of Rochester, and Arizona State University.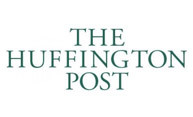 "It's a great breakthrough in terms of being able to monitor quantum systems," Andrew Jordan, a physicist at the University of Rochester, who worked on the original theory, told Live Science. "We're just scratching the surface of the kinds of physics permitted here."