Lori Packer
Lori Packer's Latest Posts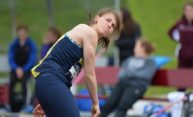 Sophomore Kylee Bartlett finished off a remarkable 2017 season by capturing the national title in the heptathlon at the NCAA Division III Outdoor Track and Field Championships.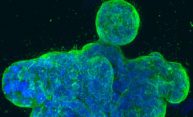 Researchers from the Center for RNA Biology have identified a new way to potentially slow the fast-growing cells that characterize all types of cancer.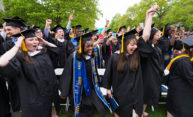 At seven commencement ceremonies across three days, members of the University of Rochester's Class of 2017 were celebrated by their family and friends, their professors and by special guests. "The great secret in life is that we can always begin again," said Arts, Sciences & Engineering commencement speaker Judge Jimmie Reyna '75. "We can always start over, again, again and again. And if we stop, start again and again and again."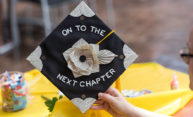 One of the newer Senior Week traditions is cap decorating in Hirst Lounge. Stickers, glue, glitter and other crafty supplies are provided by Wilson Commons Student Activities; students add creativity, sentimentality, and humor to taste.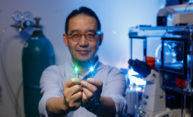 The science behind harnessing the immune system to fight cancer is complicated, but a Medical Center laboratory discovered a simple, practical way to use light and optics to steer killer immune cells toward tumors.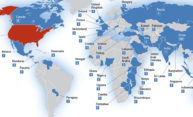 More than 1,300 undergraduates in the College will receive degrees during commencement ceremonies. Here's a snapshot of where the students in the graduating class call home when they're not in Rochester.
Each year, University of Rochester students earn awards and scholarships in recognition of their academic achievements. We are proud to highlight several of this year's recipients as they prepare to make the world ever better.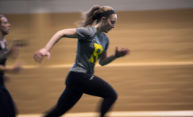 Yellowjacket athlete Laura Lockard '17 returned this spring for her final season as a key member of the track and field team. A fateful discovery during a voluntary study nearly knocked her off her stride, but Lockard, a microbiology major from Sayre, Pennsylvania, was determined to "make the best of everything" in her life.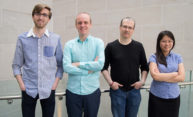 The Eastman New Jazz Ensemble and Eastman School of Music students Theresa Chen, George Darrah, and Jon Rarick have received DownBeat honors in the magazine's 40th annual Student Awards competition.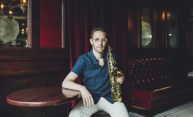 The saxophonist/composer is the first new artist to be announced under the partnership, designed to recognize and support the career and artistic development of exceptional Eastman students and alumni.