Valerie Alhart
Valerie Alhart is press officer for humanities and broadcast media, and covers humanities and the arts at the University.
Valerie Alhart's Latest Posts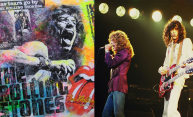 Institute for Popular Music kicks off its 2014-2015 performance and lecture series with a tribute to the iconic 70s rock band, Led Zeppelin. In the spring, lectures and a concert will focus on the music of the Rolling Stones and the 50th anniversary of the group's career-making hit "(I Can't Get No) Satisfaction."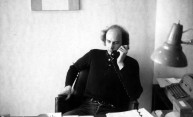 Leading scholars, artists, and critics from around the world will gather at the Arsenal Institute for Film and Video Art in Berlin on August 28 to celebrate the work of Douglas Crimp, who turned 70 this month. Known for his work as an art critic, theorist, curator, and activist, his work was instrumental in the development of the field of queer studies.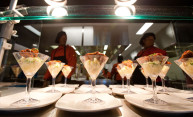 The University's dining services has been ranked 6th on the 2014 list of 75 Best Colleges for Food by the online publication The Daily Meal. In addition to the quality of the food, the rankings were determined by the "food scene of the surrounding area," as well as nutrition, sustainability, accessibility, events, uniqueness, and "the overall quality of the dining experience."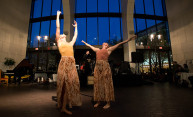 The University is a sponsor and major participant in the 2014 First Niagara Rochester Fringe Festival, taking place Sept. 18–27 in Rochester's East End. Students, faculty, and alumni will perform in more than 40 shows during the 10-day city arts fest.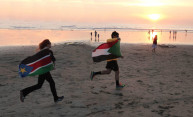 In their 59 Days of Independence project, artist and senior lecturer Heather Layton and Brian Bailey '09W (PhD) invite people around the world to celebrate the independence of countries other than their own. "By recognizing someone else's independence, you're showing that you care about his or her well-being in the same way you care about your own," says Layton.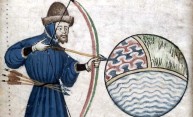 During the 3rd International Congress of the John Gower Society, scholars will explore the life and work of Gower, a contemporary of Geoffrey Chaucer, and one of the major poets during the reign of Richard II.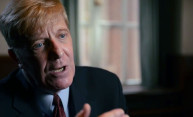 As the June 16 deadline for bids for the library approaches, universities in Chicago, Honolulu, and New York City have expressed interest in housing the Barack Obama Presidential library. Curt Smith offers strong views about the three leading contenders vying for the project.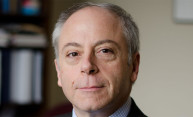 DiPiero, dean for humanities and interdisciplinary studies in AS&E, will also serve as professor in the Departments of English and World Languages and Literatures at Southern Methodist University (SMU) in Dallas.