Tag: Flaum Eye Institute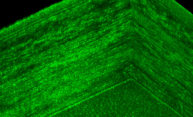 A team of University researchers is exploring the possibility that stem cells on the outer edges of the cornea, given the right stimulation, can replace damaged cells. The work raises the possibility of restoring vision without the need for cornea transplants.
Thanks to the Nomogram, Scott MacRae's team has been able to slash by two thirds the number of LASIK patients who need additional procedures to achieve the best vision possible.