Tag: Laboratory for Laser Energetics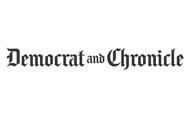 University of Rochester's Laboratory for Laser Energetics is working on it. Like the space race of the 1960s, nations are trying to solve the problem of generating energy without continuing to endanger the planet.
Funded mostly by the U.S. Department of Energy to the tune of $70 million a year, more than 300 scientists and engineers shoot the lab's two giant lasers dozens of times each week in various experiments they design, or for researchers who travel from around the country and even other countries.