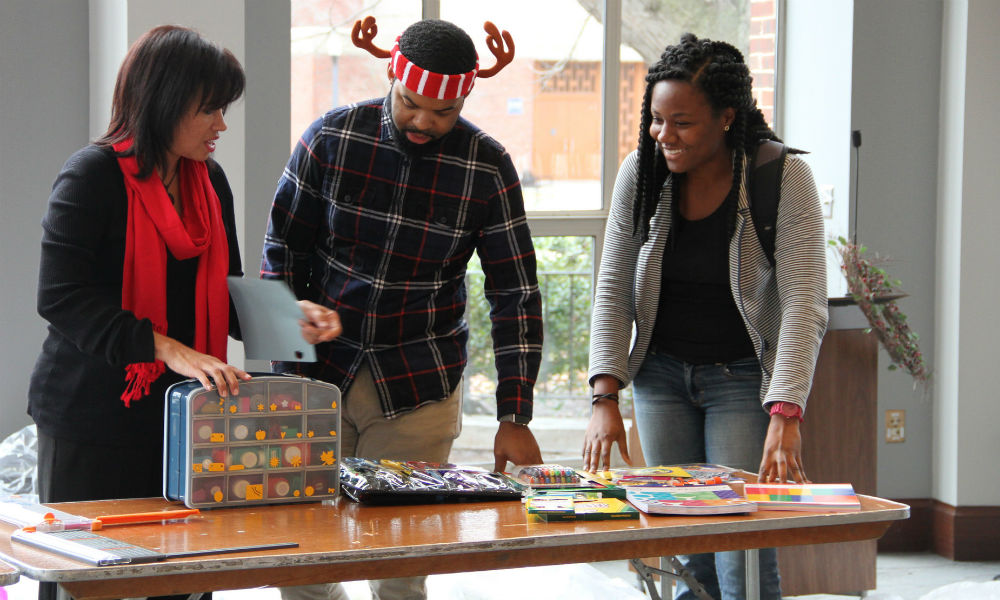 From Thanksgiving through the December holidays, faculty, staff, and students have been giving back to the greater Rochester community. Here's a roundup of a few of those efforts, beginning with those collecting donations in the next couple of weeks.
Interfaith Chapel: From December 7 to 14, the Interfaith Chapel, their faith communities, and the Student Association for Interfaith Cooperation (SAIC) are collecting gifts for area children. This year's collections will go to the Hillside & Crestwood Children's Foundation, Baden Street Settlement, and the Eastern Service Workers Association.
New, unwrapped gifts, gift cards, or monetary contributions can be dropped off at the Interfaith Chapel office, Room 211.
Suggested gifts for children from birth to 16 years of age include baby clothes and diapers, stuffed animals, hats and mittens, school supplies, lipstick and nail polish, jackets and boots, coloring books, pajamas, sweaters, blankets, slippers, and grocery store gift cards.
For more information, call (585) 275-4321 or email URinterfaithchapel@rochester.edu
Provost's office: The Provost's office is collecting donations until December 19 for its annual Gifts for Giving Program. This year, the office is donating to three single-parent families from the Friendship Children's Center.
Cards with wish information for the members of the families are available on a table near Wallis 210. Donation boxes are set up near Wallis Hall 210.
Requested items include at least one article of clothing and one toy for each of seven children, and a gift for the parent of each family. Food is also requested. The list includes a gift card for turkey or ham, potatoes, yams, stuffing, pasta, sauce, rolls, cranberry sauce, canned fruits and vegetables, juice, bread, macaroni and cheese, Hamburger Helper, rice, canned beans, and soup.
Donors are asked to return the card, identifying whom the gift is for, along with the unwrapped gift. Cash donations are also accepted. For more information, contact Barb Tanski at btanski@UR.Rochester.edu
Science departments: The Biology, Chemistry, and Earth and Environmental Sciences departments are collecting toys for Golisano Children's Hospital and food for an area food cupboard through December 14. Donation boxes are set up in Room 402 of Hutchison Hall. Non-perishable items or toys can be dropped off between 8:30 a.m. and 4 p.m. Monday through Friday.
Items on the children's wish list include play pack grab-and-go activity packs, Fisher Price people and animal figures, infant and toddler musical lightup toys, velvet art posters (6 inches by 8 inches, or 8 inches by 10 inches), teen coloring books, small Lego sets, superhero action figures, decks of cards or UNO, and $10 or $20 birthday gift cards to Walmart, Target, or Toys R Us.
Items requested for the food cupboard include peanut butter, granola bars, pancake mix, pasta and pasta sauce, soups, brownie mixes, and macaroni and cheese. Also requested are toothpaste and toothbrushes, shampoo, hand and bar soap, and deodorant. For more information, contact Deb Lawrence at Deborah.Lawrence@Rochester.edu
Athletics and Recreation: For the past decade, the Department of  Athletics and Recreation has adopted a local family in need at the holidays. The department partners with CP Rochester, a local organization that serves families and children with cerebral palsy, and purchases toys and clothing for the children and household items for the parents. The field hockey team, led by head coach Wendy Andreatta, wraps the gifts for CP Rochester to deliver to the family.
East High School: As part of Gov. Andrew Cuomo's annual statewide Thanksgiving drive, Wegmans Food Markets donated meals prepared by culinary students at East Upper & Lower Schools. The meals included turkey with trimmings, rolls, and pies, and fed 1,200 people in the Greater Rochester area. The University has lead East High as an Educational Partnership Organization for East since July 2015.
Mt. Hope Family Center: Staff at the center worked with students at Webster Schroeder High School to provide Thanksgiving meals to families served by the center. The center provides intervention and prevention services to hundreds of children and families in the Rochester community and conducts research work in the areas of child maltreatment, trauma, depression, and poverty. The high school students raised money to purchase meals and staff at the center filled baskets with food and delivered them to the families' houses for Thanksgiving.
Public Safety: The Department of Public Safety collected gifts throughout November to help survivors of domestic violence and their families in the Rochester area. It's the second year Public Safety has participated in the Willow Domestic Violence Center's annual Purple Box campaign to collect new holiday gifts for more than 300 children in crisis.
Willow Center families have survived trauma, violence, abuse, and relocation. The children in the shelter are away from everything familiar to them—their home, toys, and friends.
River Campus Libraries: Staff continued a decades-long holiday tradition of helping local families by collecting nearly $600 in cash and food donations for Thanksgiving meals at Baden Street Settlement, and more than 70 books for children and young adults at the Sojourner House at Pathstone, a transitional facility for homeless women and children.
Simon Business School :  The school held its 24th annual Secret Santa program on December 1 in the Eisenberg Rotunda at Schlegel Hall. The program is organized by Simon Volunteers, a student-run organization that unites Simon students, faculty, staff, and alumni through fundraising, shopping, and wrapping holiday gifts for children in need throughout the city of Rochester. This year around 100 volunteers delivered 350 gifts to 85 local children.
Zeta Phi Beta Sorority: The Chi Lambda Chapter of the sorority coordinated the annual Dovely Deeds Clothing Drive. Clothes were donated to the Open Door Mission.
Category: Student Life