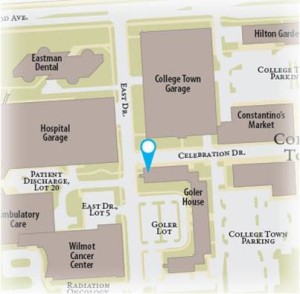 Parking Management Center (PMC)
Department of Transportation and Parking Management
70 Goler House, Box 270348 | Rochester, NY 14627
(Entrance is on Celebration Drive)
parking@rochester.edu
Phone: 585.275.4524
Office Hours
Monday – 8:30 am – 4:45 pm
Tuesday through Friday  – 8:00 am – 4:15 pm
On the below 2016 dates the office will open at 9:30am
Friday, June 10
For Transportation- and Parking-related services, go to My Parking Online, call 585.275.4524, or visit the Parking Management Center at 70 Goler House.
Senior Director
University Facilities, Transportation, & Parking Management – Jeff Foster
P: 585.273.5757
Director (Interim) – Phil Schmitt
P: 585.273.5158
Assistant Director
Transportation & Parking Management – Timothy Coughlin
P:585.273.4620
Office Manager – Margie Reyes 
P: 585.275.1484
Business Manager – Phil Schmitt
P: 585.273.5158
Transportation Manager – Andrea Walton
P: 585.275.5953
Special Events Manager – Monica Tanksley
P: 585.273.2140
Field Manager – Luis Cruz
P: 585.276.6456
Field Manager – Doug Grotke
P: 585.275.6825
Field Manager – Matt Schwartz
P: 585.273.4225
Visitor Parking Office
(Ramp Garage Ground Floor)
P: 585.273.4226
F: 585.271.3005
Hours:  24 Hours/Day 7 Days/Week
Parking Updates/Listserve
Parking & Transportation has recently created a mailing list (listserv) to help students, staff and faculty learn more about the department and receive alerts and updates. If you are interested in receiving occasional news items and alerts, you may sign up here.
Department of Transportation and Parking Management
Vision
Committed to Service of the Highest Order For Ourselves and Our Customers
Mission
Moving People to Their Learning, Discovering, Healing, Creating Destinations