Ramp Garage Parking Policy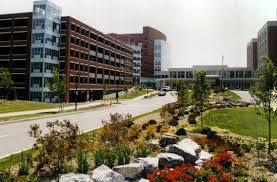 Any URMC permit holder may park on levels 4, 5 or 6 of the Ramp Garage IF
they enter between 2:15pm and 5:00am.  They must exit before 10:00am.
During the above times when employees are permitted to park in the Ramp
Garage, please park in the sections labeled:
V, W, X or Y (formerly Level 4);
L, M, N, or O (formerly Level 5) OR
Z (formerly Level 6)

EMPLOYEES VISITING AS A VISITOR OR PATIENT
When employees visit the Medical Center as a patient or visitor, they may
park in any level of the Ramp Garage, but must take an entry ticket
and pay the standard fee when leaving. 
To avoid a citation, please phone the MC Parking Office (275.4524) to
report that your vehicle will be in the Ramp Garage during the visit
as a patient or visitor.