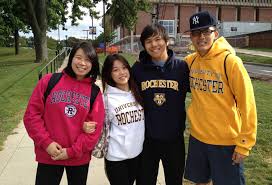 Students may bring automobiles to the University but should be aware that parking spaces for students in residence on the River Campus are limited. Monday through Friday from 7:30am to 7:00pm on-campus parking for students, employees, and visitors is by permit. Commuter students must purchase a parking permit. Resident students may find that the only parking space available to them is in a remote lot from campus.  Freshman living on campus are encouraged not to bring a vehicle to campus and are not eligible to purchase a parking permit.
Student Lottery
Parking for resident students is offered by lottery to those who pre-register (freshman are not eligible for the lottery). Priority is by class year. It is possible that all permits may be awarded before all requests are fulfilled.  As an alternative many resident students make use of the shuttle buses and RTS bus service to go between University properties and community activities. Free University sponsored shuttle buses providing service from the more distant lots to the campus run various times weekdays when school is in session.
Vehicles displaying any paid University of Rochester parking permit may park in central campus lots not restricted by posted signs between 4:00pm and 7:30am weekdays, and at any time on weekends and University holidays.  Please be aware that reserved spaces, disability spaces, and restricted areas are enforced 24-hours per day.
For one-day visits to the campus, parking information is available at the Visitor Information and Parking (VIP) Booth on Wilson Blvd. near Elmwood Avenue.  Day parking passes may be purchased at this location.
Commuter students wishing to drive themselves to campus during the year will need to purchase a River Campus parking permit. Commuter students will automatically be assigned to Park Lot. Additionally, commuter students are allowed to participate in the occasional parking program and other UR Connections programs, however they will be assigned to the Park Lot.
Disability Parking Accommodations
Parking for individuals with disabilities or those who require special accommodations is available in accordance with the Americans with Disabilities Act as amended (ADA) and other relevant laws. Learn more about our services and how to apply for a permit through the Disability Parking and Accessibility page.
Carpool
Help the University in our commitment to embrace sustainability while reducing your impact on the environment. Join a carpool! A qualifying carpool is two people or more sharing a ride and reaping the benefits of minimizing traffic congestion, being green, and saving on the cost of parking permits. Carpooling is one of the many features of the UR Connections program to encourage alternative transportation.  You can find out more about other UR Connections activities here.
Enforcement, Citations and Appeals
Parking Enforcement is provided as a customer service for those who have purchased parking. Parking Citations are meant as a means of communication to inform our patrons when their vehicles are not parked in accordance to Transportation and Parking Guidelines. Should you receive a parking citation you have 10 calendar days in which to appeal.  You may do this on-line at by clicking here.
Vehicle Assistance Program (V.A.P.)
Need directions? Have a flat tire? Car won't start? Transportation and Parking Management is here to help!
Eastman School of Music
For parking, directions and maps to Eastman School of Music click here